Last Updated NOVEMBER 2022
Investing in smart restroom technology helps to create a better guest experience venue-wide
Long, winding bathroom lines are synonymous with big venues. Whether it is a sporting event, a concert, an amusement park, the theater or a convention center, everyone keeps an eye on the line to assess if it's a good time to pop in.

The question on everyone's mind: What's the bathroom situation?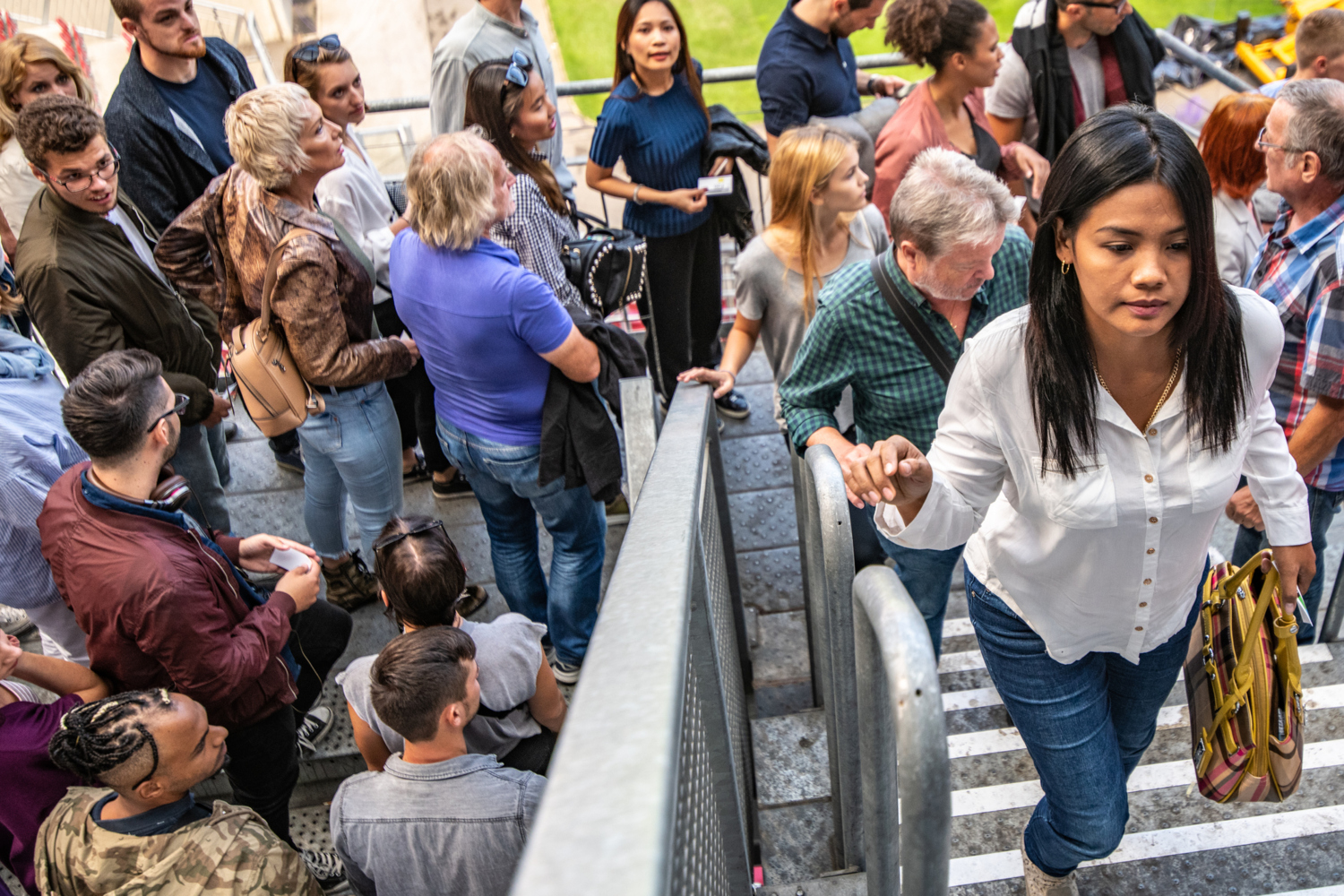 Event attendees often make decisions on when to visit the restroom based on the length of the line. This also is a huge factor in determining whether they have time to purchase food and drinks.
Timing is everything. Tickets can be expensive, and fans don't want to waste precious time standing in bathroom lines instead of enjoying the experience and creating happy memories of the event.
Beyond that, some may avoid the restroom at all costs due to the horrible conditions they believe exist inside. In fact, survey data from Kimberly-Clark Professional indicates 89 percent of workers felt that the washroom is one of the most important areas to improve building hygiene levels, while 75 percent thought the condition of the washroom reflects the hygiene standards of the rest of the facility.[1]
Managing a major venue is a non-stop, high-stakes responsibility. Public restrooms are one of the most highly trafficked and historically most complained about areas in any building.
During an event, facilities managers are constantly re-calibrating to meet the needs of the moment. Fluctuations in traffic and heavy use is magnified in large venues.
Think about this - the largest sports stadium the United States has the seating capacity to hold 107,601 fans [2]. Due to the sheer volume of traffic, especially during stoppage time, the quantity, quality and functionality of the bathrooms is critical.
When the system is stressed—say during halftime at a football game—the wait times can get out of control and complaints due to missing supplies can skyrocket.
In today's reality, venue facility managers are facing a range of competing challenges that connect to restrooms. From combating inflation and supply costs to labor shortages and increased hygiene expectations, smart restroom servicing technology could be a game changer.
Smart restroom servicing is enabled by connecting the dispensers installed in every washroom. Smart dispensers, sensors and fixtures collect real-time usage data and device status. Local gateways collect the data and securely send it to cloud software which aggregates and analyzes the data to deliver actionable insights. Real-time notifications and advanced analytics predict and proactively improve operational efficiency.
Keeping high-traffic restrooms stocked with supplies such as toilet paper, paper towels and soap, all while ensuring surfaces are hygienic, can be a full-time job for janitorial crews during peak times.
Smart restroom servicing can lead not only to a better guest experience and increased likelihood of a return for future events, but also can free up time for venue janitorial staff to focus on safety issues including cleaning up spills in the walkways, stairwells and other areas to reduce the risk of slips, trips, falls and injuries.
When facility managers can make data-driven, faster decisions, they realize wins across the venue.
Today, Americans are more aware than ever of health and hygiene. The ongoing effects of the COVID-19 pandemic have transformed the way people think about restrooms. Restroom disinfection has become a top priority for venues across the United States.
Full-capacity crowds are returning without masks, and venues are grappling with how to manage the foot traffic. No one could have predicted how challenging it would be to fill staff vacancies. Despite active recruiting, higher wages and incentives, venues across the country are dealing with the same workforce shortages so many other industries are facing.
Venue leaders must be strategic about how they deploy their cleaning resources. Efficiency gains are key to doing more with less.
Most restroom maintenance and cleaning protocols are based on outdated and inefficient prescribed schedules. There is often poor visibility into utilization rates, traffic patterns, conditions, and supply inventory. This leads to poor guest experiences, heightened complaints, unhygienic environments, and higher potential for germ transmission.
Without access to data and analytics, most restroom servicing decisions are based on assumptions rather than facts - and can result in wasted time and wasteful spending. Set interval cleaning often means that paper towels and soap cartridges are replaced before they are empty just so staff can stay ahead of the game and not get caught with an onslaught of complaints.
Not only is this wasteful and impactful to sustainability efforts, but it's also money out the door. All these challenges can be effectively addressed with the help of smart restroom technology that monitors, analyzes and feeds real-time information to cleaning teams.
Onvation® by Kimberly-Clark Professional is an example of a connected software solution that proactively controls and optimizes restroom servicing, providing the intelligence and flexibility needed to deliver world-class facility management and improve operational efficiencies. It can diminish time staff spend checking dispensers by more than 90 percent per year[3], reduce consumable waste by up to 80 percent, directly impact hygiene levels and service rotations, and achieve up to 75 percent fewer visitor complaints[4], all while positively impacting the guest experience.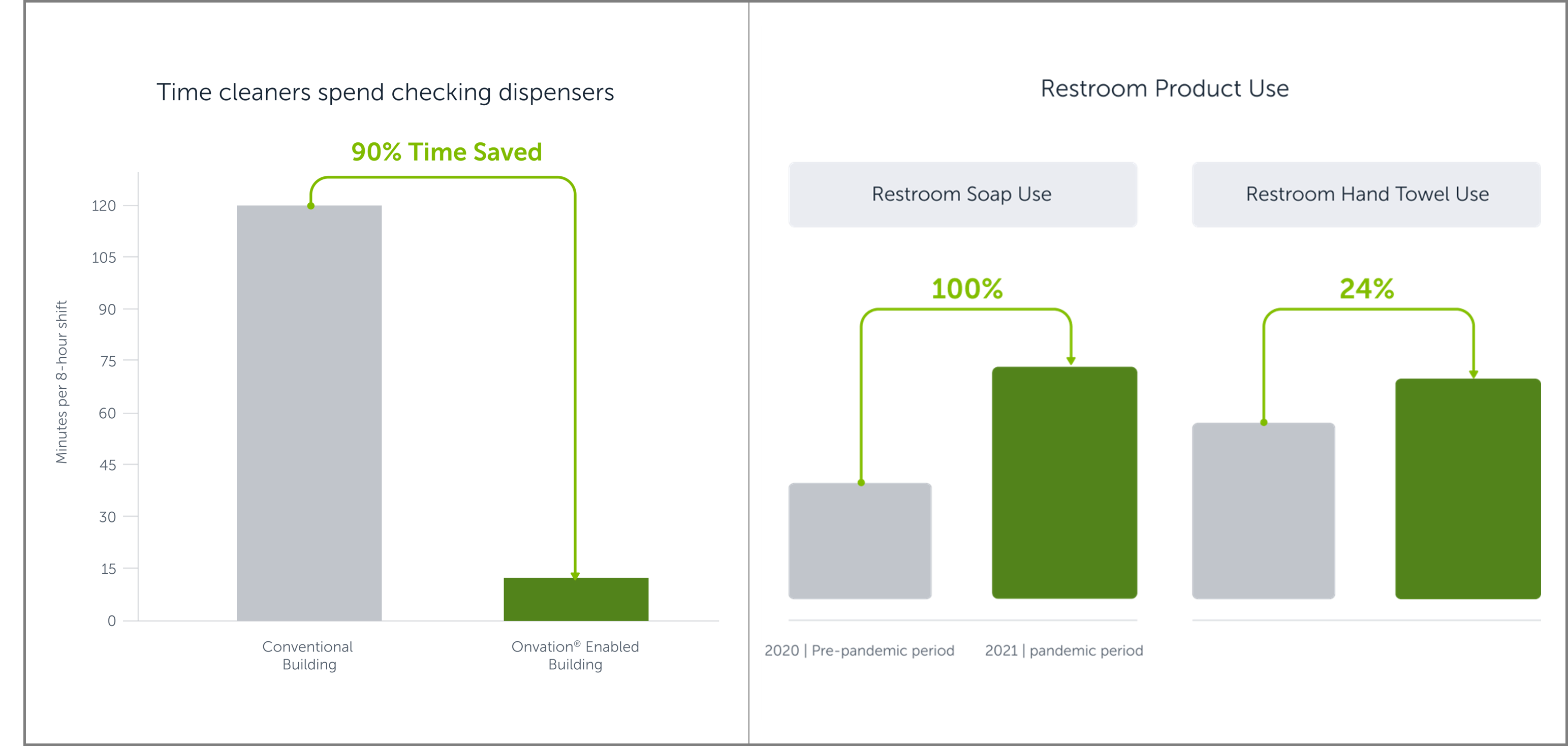 In today's environment, facilities managers are adapting to a new reality. The COVID-19 pandemic drastically increased the need for accessible and accurate utilization data. With these insights, facilities managers may find it easier to adjust to inconsistent and unpredictable human behaviors.
Smart restroom technology can provide such real-time data, which can be used to alert janitorial staff when stock levels are low as well as help to inform optimal cleaning schedules. For example, Kimberly-Clark Professional's Onvation data shows people in the 12 weeks following the onset of the pandemic used two times the amount of soap and 24 percent more hand towels than before the pandemic.
While restrooms are an area that historically garner less attention, public expectations for elevated hygiene in facilities is at an all-time high. The condition of stadium and large venue bathrooms have the potential to make a great impact on the overall fan event experience and IoT technology can help you make a difference.
How will your visitors remember your venue's restrooms?
Juliet Hollyhurst is the business operations leader at Kimberly-Clark Professional for Onvation®, the No.1 ranked smart restroom solution[5]. With 20 years of experience in marketing, sales and innovation, she helps Kimberly-Clark fulfill its purpose of Better Care for a Better World by keeping the needs of the customer at the center of everything she does and providing trusted brands, innovative tech and IoT solutions that transform restroom servicing. Find out more about Onvation®: http://www.kcprofessional.com/onvation . Keep in touch with Juliet on LinkedIn or by email: [email protected]
Editor's Note: This article was originally published by Venue Professional magazine in the Sept/Oct 2022 edition - https://bluetoad.com/publication/?m=66359&i=759408&p=52&ver=html5
[1] Free Smart Restroom White Paper

[2] https://www.annarbor.org/university-of-michigan/michigan-stadium/

[3] Based on analysis of current Onvation customers

[4] As demonstrated in alpha and beta testing

[5] Based on Kimberly-Clark Professional US customer survey August 2021