Last Updated JUNE 2023
How manufacturers use Agile in production to profit from market volatility and increased customer expectations
In this article, we look at how manufacturers can become more successful by implementing Agile principles in production.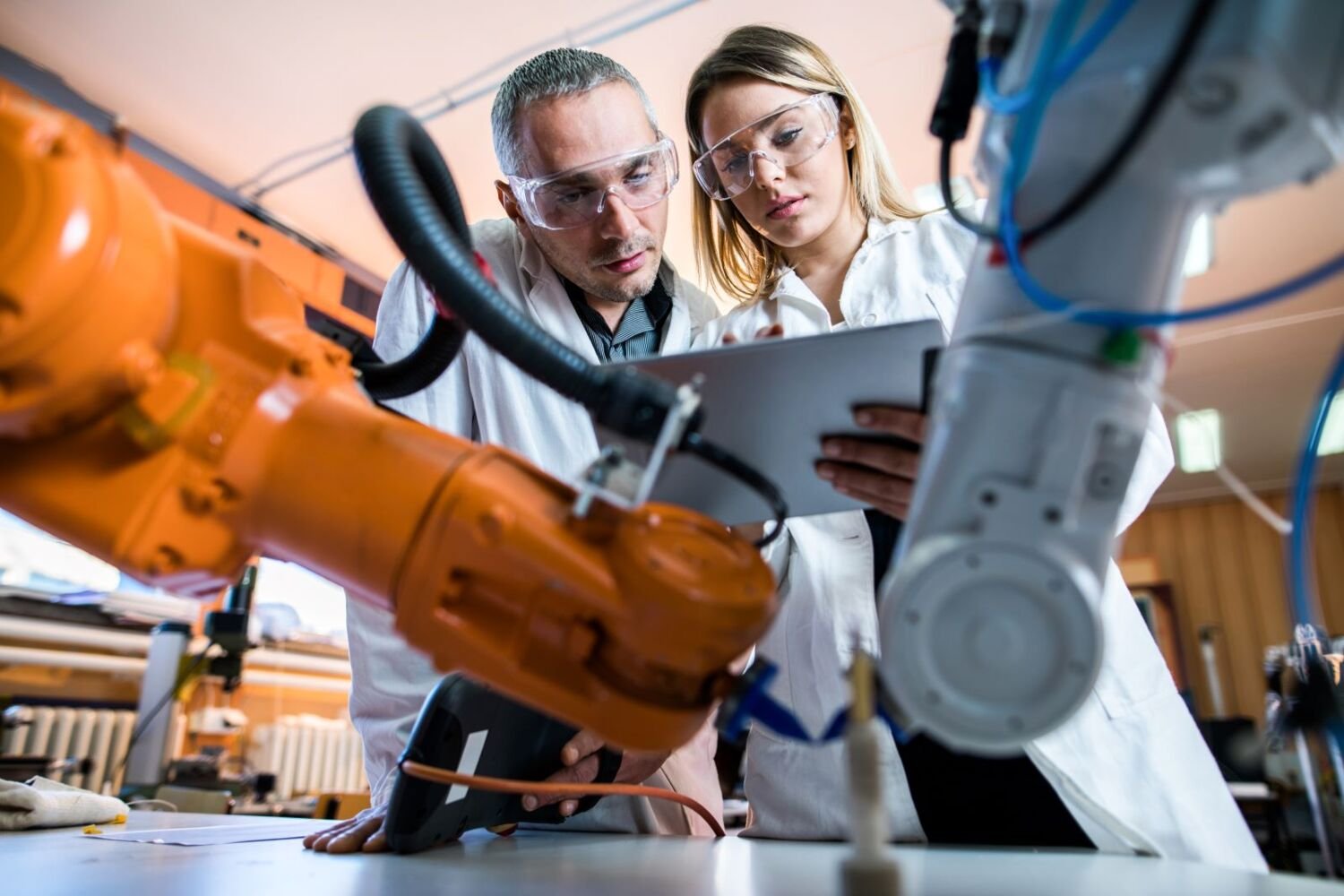 The manufacturing industry has been impacted by an increasingly competitive global market, explosive growth in disruptive technology and ever-increasing customer expectations for better quality and service, lower prices and higher speed. In response, many industrial manufacturers have adopted Agile Manufacturing principles in their production processes to provide a faster response to customer demand.
Agile: helping manufacturers thrive in volatile markets
Agile production addresses the realities of the modern marketplace. It acknowledges and seeks to profit from consumers that love having a choice of products and are often unwilling to compromise on what they want, even if it means paying more. Manufacturers that can respond to these needs and thrive on unpredictability often find success. Their strong focus on rapid response to the customer allows them to deliver new and personalised products at speed.
Ways to incorporate Agile into production
As businesses target more product variations and customisations to reflect changing consumer demands, production lines must also become more agile in response. Manufacturers can reduce start-up times by building flexibility into their production and products through:
modular product and production designs
volume-flexible production assets
future-proofing production lines for any foreseeable product variations
Incorporating flexibility in the production layout and process to allow for fast changeover of different products is another way to enable agility in production. With the right strategy, Agile manufacturers can have better control over unit production costs independent of batch size.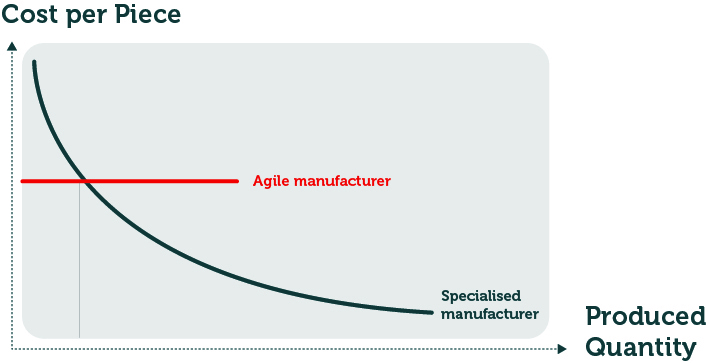 Cost per Piece vs. Quantity - for Agile and Specialist Manufacturers
However, Agile cannot be implemented for production in isolation without a wider coordinated approach. So, for manufacturers to respond more quickly, they need to adopt the right tools and technologies across the organisation. This often involves harnessing new digital technologies that can improve efficiency throughout the organisation and in production.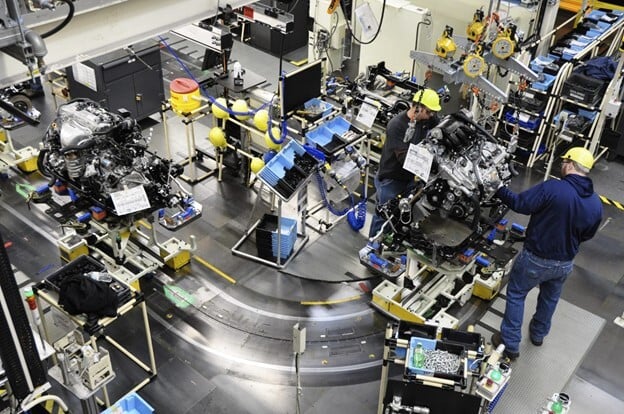 The Internet of Things (IoT) and Industry 4.0, for example, are helping businesses eliminate information silos, respond to customer demands quickly and discover production problems before they occur. The right tools also help eliminate the risk of malfunctions and faults during manufacturing to ensure smooth operation during production and product changeovers. Examples of these tools include intelligent industrial wireless sensors that enable remote performance, safety and efficiency monitoring, technology such as 3D printing that enables parts production on-demand, and specialist integrated planning and scheduling software.
Leading manufacturer achieves $1 billion of accelerated delivery through Agile practices
Digital technologies and agile manufacturing go hand-in-hand and we are seeing many leading industrial manufacturers demonstrate this today. bp was a relatively early adopter of Agile in its industrial operations. Its transformative journey started in 2016, which focused on investments in digital technology and the implementation of agile ways of working.
"By the end of 2019, 350 Agile teams had already contributed to more than $1 billion of accelerated delivery through cost savings, engineering innovation, and efficient delivery," said Ian Cavanagh, Senior Vice President of Transformation at bp.
bp's adoption of agility has since seen a broader rollout with its "Reinvent bp" program in 2020. The program redesigns bp's Production & Operations (P&O) function around an Agile operating model with multidisciplinary teams that will focus on optimising current assets and leveraging future opportunities.
Kimberly-Clark ProfessionalTM deliver cleaning solutions that are critical for Agile Manufacturing
To truly enable agility in production, manufacturers should have sight of and optimise the entire manufacturing process from the loading of raw materials to the final finish of the product - and ensure that routine tasks such as cleaning are not undervalued or under-visualised in the process.
Effective cleaning is paramount to enabling Agile production. With Agile manufacturers developing more product variations, and therefore requiring frequent changeovers in the production line, more cleaning across more touchpoints is needed.
Using the right materials for cleaning during production and between changeovers allows for an effective clean that eliminates the need for any rework due to cross-contamination or a poor-quality clean. The consequences of deficient cleaning due to the use of generic solutions become further magnified across frequent product changeovers and can have a real impact on production timescales, equipment reliability and product quality, which translate into increased costs and reduced efficiencies.
We understand the unique cleaning challenges of Agile manufacturers here at Kimberly-Clark ProfessionalTM, so we offer a wide range of specialist cleaning products and solutions to help get each cleaning task done right the first time. Compared to all-purpose solutions such as rags, our tailored products:
eliminate equipment damage
reduce waste
ensure a high-quality finish
Manufacturers can rely on Kimberly-Clark ProfessionalTM's solutions for high-speed, high-effectiveness and high-confidence cleaning time and time again. This means reduced turnaround times, which lead to increased equipment uptime for manufacturers to focus on more product customisations and variations.
Your digitalised future
We would love to partner with you to start implementing the best agile cleaning solutions for your organisation. Interested? Take the next step now:
Biography:
Olivier Coquet
25-year experience in production roles including process engineer, project engineer, line manager and production manager in EMEA.