Last Updated DECEMBER 2022
Smart packaging: how to design, use, and reuse plastics
Stakeholders that take a circular approach can make a difference
There is no doubt that plastic has valuable properties, it is hygienic and hugely practical, but when discarded, it damages the environment. The world produces 141 million tonnes of plastic packaging annually, and a third of this leaks from collection systems and pollutes the environment. Creating all this plastic each year results in 1.8 billion tonnes of carbon emissions1. Drastic action needs to be taken. According to the Ellen Macarthur foundation, "We must change how we design, use, and reuse plastics. We cannot simply recycle or reduce our way out of the plastic pollution crisis." Many of the solutions to this crisis are here, and fortunately, organisations are beginning to embrace them.
In the UK, The Plastics Pact brings together businesses, the UK government and NGOs from across the plastics value chain to tackle plastic waste. The aim is to create a circular economy for plastics, capturing their value by keeping them in the economy and out of the natural environment. The network of stakeholders in The Plastics Pact, which the Ellen Macarthur foundation set up, share vital knowledge and embark on circular economy initiatives. Kimberly-Clark was one of the founding members in 2018. Since its launch, there has been a 10% reduction in consumer plastic packaging in the UK. That's a 335kt CO2e reduction, equivalent to taking 150,000 cars off the road2.
The Plastic Tax
If protecting the environment wasn't incentive enough, a new plastics tax in 2022 means additional pressure for UK businesses to adapt plastics use. The Plastic Packaging Tax rate applies at £200/tonne tax on plastic packaging manufactured or imported into the UK that does not contain at least 30% recycled content3. The UK government estimates that it affects around 20,000 packaging producers and importers. Companies and organisations will need to take a more circular and sustainable approach to avoid heavy bills under the tax. And regulations and further taxes will likely follow as sustainability issues continue to move higher on the political and regulatory agenda4.
Packaging Waste Regulations
Some new regulations have already been introduced. The Packaging Waste Regulations mean that packing producers must pay some of the costs towards circular approaches such as the recovery and reuse of packaging. A business falls under the regulation if all of the following apply:
Its annual UK turnover exceeds £2 million

It performs a packaging activity on any of the packaging handled

It owns the packaging or packaging materials handled

It handles more than 50 tonnes of packaging and/or packaging materials5
Businesses might consider participating in circular economy initiatives to help them work within regulations. The Zero Waste to Landfill initiative by the Carbon Trust provides advice on ensuring plastic waste doesn't end up in landfill and gives accreditation to organisations taking a best-practice approach to plastic waste management6.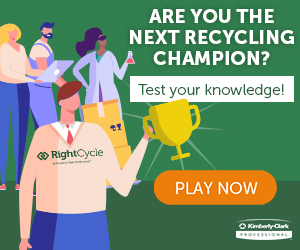 Redesigning plastic for smarter and circular use
As part of the move towards a future of zero plastic waste, businesses need to redesign products, rethink supply chains and move to a culture of reuse in plastics manufacturing. Innovative new products such as bioplastics can provide the same function as conventional plastics without environmental damage. At Kimberly-Clark we are tackling this innovation challenge through a partnership with RWDC Industries, a biotech company working in harmony with nature to replace petroleum-derived materials with safe, sustainable alternatives. The partnership combines our deep expertise in manufacturing with RWDC's innovative marine and soil-biodegradable solutions. We've also committed to ensuring that 100% of our packaging is reusable, recyclable, or compostable by 2025.
Those involved in the plastics supply chain must work quickly and collaboratively to protect the environment and reduce emissions. The good news is that for businesses the plastics crisis can be addressed through innovative design, the circular economy, and transparency around waste and emissions.
---
1
https://wrap.org.uk/taking-action/plastic-packaging
2
https://wrap.org.uk/resources/report/uk-plastics-pact-annual-report-2020-21
3
https://www.clarity.eu.com/plastic-packaging-tax-the-complete-guide/
4
https://www2.deloitte.com/content/dam/Deloitte/nl/Documents/risk/deloitte-nl-risk-sdgs-from-a-business-perspective.pdf
5
https://www.valpak.co.uk/compliance/packaging-compliance/
6
https://www.carbontrust.com/what-we-do/assurance-and-certification/the-carbon-trust-standard-for-zero-waste-to-landfill