Last Updated MAY 2022
Our 5 Major Predictions for the Office of the Future
None of us predicted the abrupt transition to virtual work in 2020. Perhaps even fewer people would have guessed that the great telework experiment would prove overwhelmingly successful.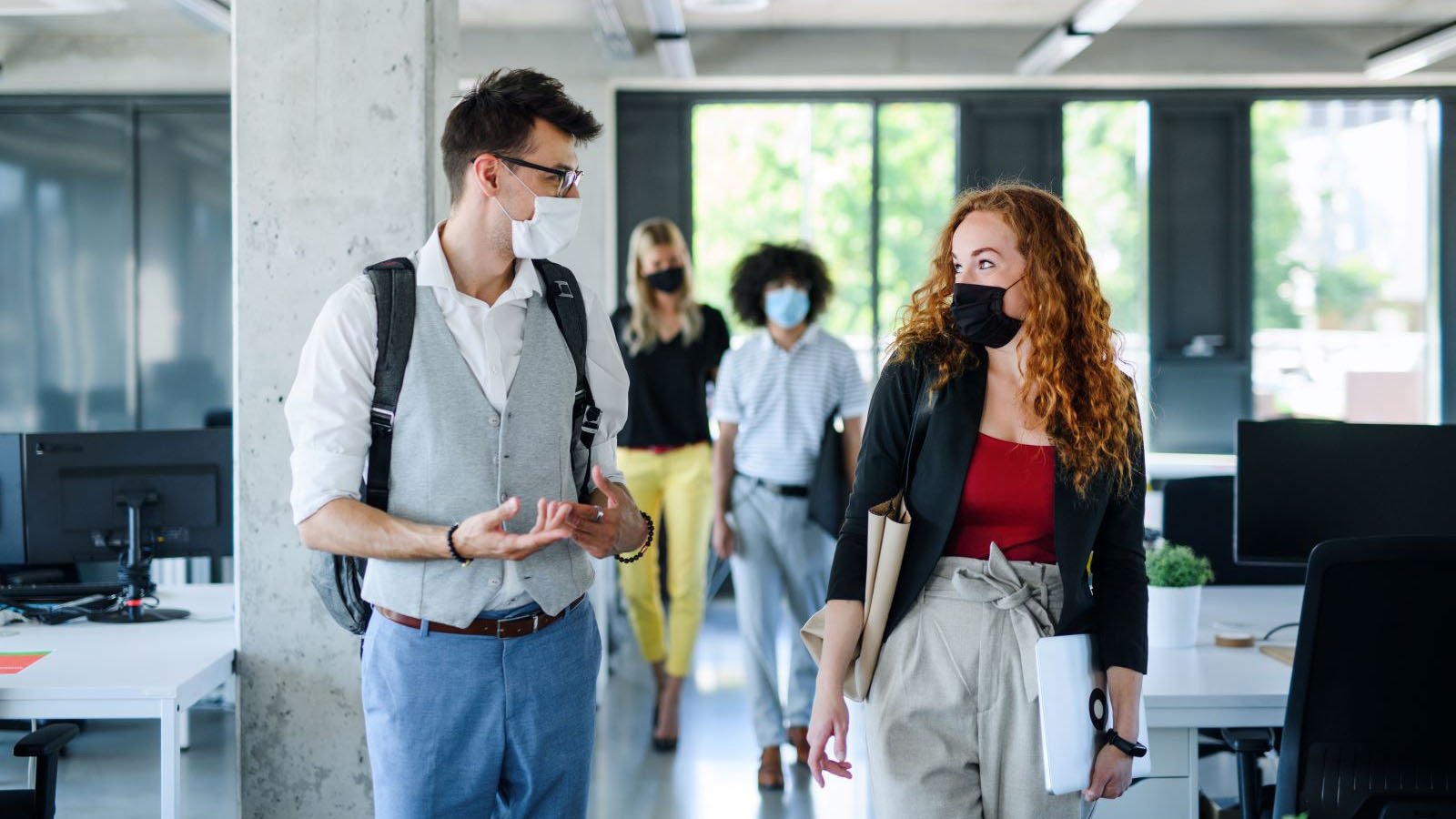 None of us predicted the abrupt transition to virtual work in 2020. Perhaps even fewer people would have guessed that the great telework experiment would prove overwhelmingly successful. By now you're likely well aware that workers have maintained an impressive level of productivity outside of the physical office. However, this presents a whole new set of questions. How will commercial offices be used in the future? What will they look like? What could draw people away from the coziness of their homes and back to on-site work?
To help support facility management (FM) professionals amidst this uncertainty, we researched these exact questions, interviewing colleagues and knowledge-sharing with relevant industry associations. We've come up with five predictions for the future of offices.
Prediction #1: Companies Have to Embrace Hybrid Scheduling for Good
According to CBRE, most office tenants will implement some kind of flex or hybrid work model in the years to come.* Prior to COVID-19, a company's workforce was typically 100% remote or 100% in-office. The idea of offering a mix of options that employees can customize to their needs is novel, but it's gained momentum quickly. There's no denying that work from home has disadvantages. Collaboration and socialization which occur organically in the office prove difficult when remote and virtual employees may have less access to new opportunities. Offering a blend of at-home and on-site hours will help employees balance the pros and cons.
Prediction #2: The Office Will Need More Reservable Workspace
Traditional office layouts have revolved almost entirely around individual workspaces. In recent decades, open offices became more popular as cubicles gave way to shared tables and unassigned desk seating. Hybrid in-office work schedules may require companies to take the open office concept a step further. In order to accommodate the full spectrum of remote, part-time remote and on-site workers, buildings need to provide highly flexible spaces with desks and workstations that can be reserved as needed.
Prediction #3: Tenants Will Demand New On-Site Amenities
We're predicting that, in order to be totally satisfied with their office, tenants will require more on-site amenities than in previous years. These amenities could include practical services such as childcare facilities and healthcare clinics as well as more recreational spaces such as gyms, nature paths, cafes and meditation rooms.
In more recent years, features of this nature have been popping up in "mixed use" buildings and forward-thinking office parks. They serve to increase tenant satisfaction and, in the age of working from home, transform the office into a destination of its own.
Prediction #4: Smart Devices Will Continue to Multiply
It's projected that the Internet of Things (IoT) will only continue to grow, and office buildings will be a major source of that growth. Smart devices that go far beyond phones and tablets will become more widely available and start to transform the way you think about your buildings. Bringing smart technology into the restroom, for example, could help you collect accurate data about hygiene and usage which you can apply when staffing or stocking up on supplies.
Prediction #5: FMs Will Work Harder Than Ever
Daily foot traffic into your facility may have shrunk but your list of responsibilities has likely only grown. Tenants are relying on property managers to provide detailed information on their building's environmental safety, scheduling logistics and more.
As an FM, you should be communicating equally with all of your tenants, whether they're back in the building or piloting new flex schedules. They will be eager to hear about your cleaning process. They may be wondering how often cleaners are working and what types of products they're using. You should be ready to be pressed on any of these topics as well as larger questions about indoor air quality, visitor health screenings and contact tracing.
A Final Tip: Stay Agile. Adapt as You Go.
We're pretty confident about the predictions above but we should add that no one's understanding of the post-pandemic workplace can be completely accurate. Office work has changed drastically. It only makes sense that the buildings and the work of facilitating and managing them will change, too. As your tenants make their way into the office, whether to escape the distractions of home or to collaborate with their team, be sure they're entering a space that balances comfort and safety. By adapting a flexible mindset, you can continuously improve your space no matter what the future brings.
*CBRE Occupier Sentiment Survey, April 2021
RELATED PRODUCT:
Learn more about the Onvation™ Smart Restroom Solution here:
https://www.kcprofessional.com/en-us/solutions/onvation-smart-restroom-management-system