Last Updated JULY 2023
Kimberly-Clark Professional Announces Greenovation Awards for Sustainability Leadership and Waste Reduction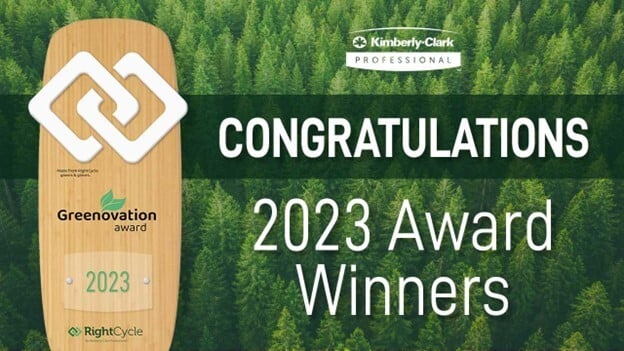 Kimberly-Clark Professional™, has bestowed the 2023 Greenovation Awards on 49 companies for demonstrating sustainability leadership and reducing their environmental impact by participating in landfill diversion programs.
The companies were recognized for diverting a total of 439,227 pounds of personal protective equipment (PPE) waste from landfills in 2022 through The RightCycle™ Program. The program helps a wide range of Kimberly-Clark Professional's customers reduce their solid waste streams by enabling them to recycle single-use items such as garments, gloves, hoods, boot covers, masks and safety eyewear. The RightCycle Program collects used PPE and sends these items to regional recycling partners to become plastic pellets used to manufacture consumer products, including lawn furniture, benches and bicycle racks.
Companies recognized this year for running collection sites include:
Boston Scientific (Dorado, Puerto Rico)

Catalent (Madison, Wisconsin)

Cook Medical (Bloomington Indiana)

Grand River Aseptic Manufacturing (Grand Rapids, Michigan)

The Jackson Laboratory (Bar Harbor and Ellsworth, Maine)

MilliporeSigma (Danvers, Massachusetts)

Pfizer (Cambridge, Massachusetts)

Philips (Reedsville, Pennsylvania)

Promega (Fitchburg, Wisconsin)

Purdue University (West Lafayette, Indiana)

Regeneron Pharmaceuticals (Rensselaer, New York)

W. L. Gore (Phoenix, Arizona; Flagstaff, Arizona; Elkton, Maryland)
Kimberly-Clark Professional aspires to be at the forefront of the transition to a circular, reuse economy by reducing waste, promoting waste-handling system improvements and innovating new ways of providing people with the products they need to live their best lives. To learn more about diverting used PPE waste, visit The RightCycle Program website.