Scott® Essential Coreless SRB Tissue Dispenser
---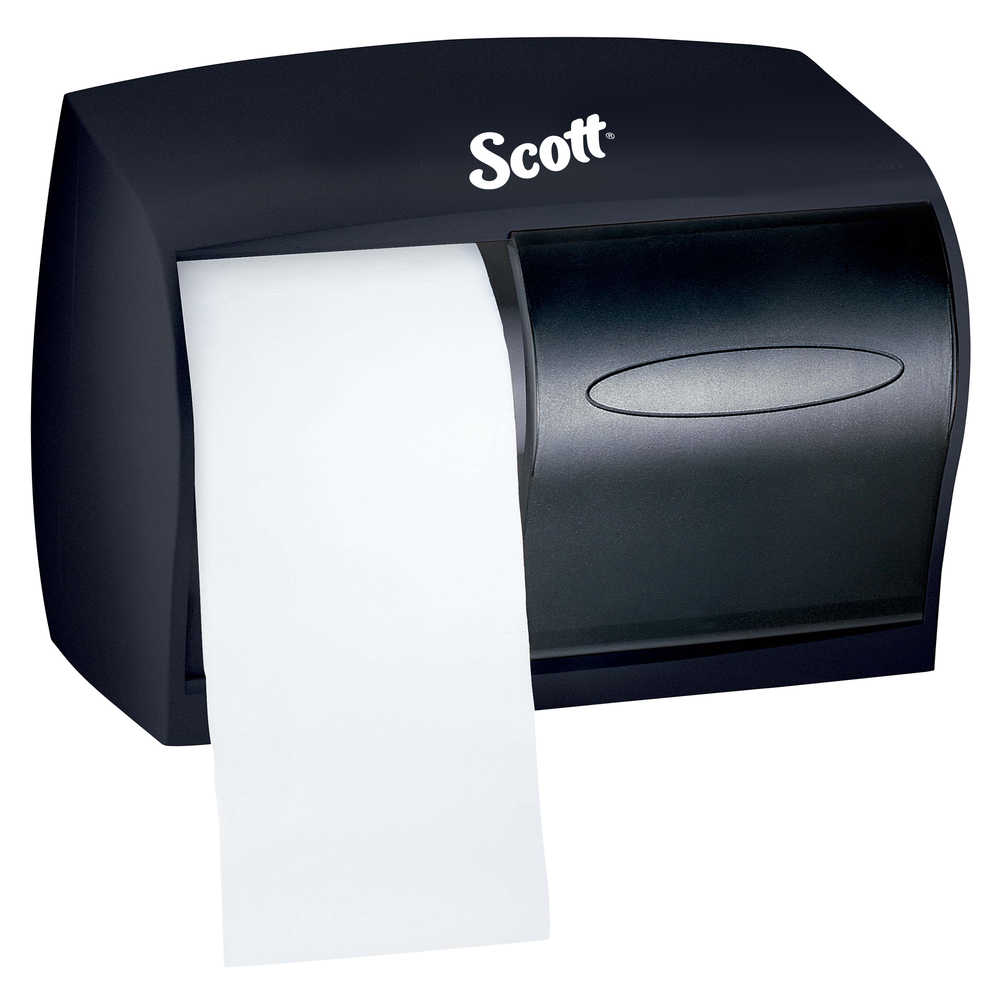 EMAIL PRODUCT
SKU
09604
Size
10.13" x 7.13" x 6.38" 11.0" x 7.63" x 6.0"
FEATURES & BENEFITS
Scott Essential provides reliable balance of efficiency, performance and value. As a business owner, you want to make restroom maintenance as easy and fast as possible. The Scott Essential Double Roll Dispenser for Coreless Toilet Paper holds two full standard rolls. The dispenser is made of durable black plastic, has a sleek look and features a sliding cover for added hygiene. By using coreless toilet paper rolls you'll have less waste (up to 47% less packaging waste vs. standard roll tissue) and you can get up to 15% more paper per case (comparing coreless to like cored products). The dispenser meets the ADA Standards for Accessible Design when properly installed. Refilling is easy for your maintenance staff: there's no lock for easy maintenance access.
Dispenser measures 11.0" x 7.63" x 6.0"
Black, manual dispenser offers easy refills and maintenance with no lock
Hygienic design covers both rolls
When properly installed, these dispensers meet the ADA Standards for Accessible Design.
details
variants
reviews
resources
find distributors
Spare Parts/Keys
buy online
buying advice
details
| | | |
| --- | --- | --- |
| Kimberly-Clark Product Code | | 09604 |
| Brand | | Scott® |
| Color | | Smoke |
| Lens Coating | | |
| Frame Color | | |
| Material | | |
| Style | | |
| Fragrance | | |
| Perfume and Dye Free | | |
| Volume | | |
| Ply | | |
| Core Size | | |
| Post-Consumer Waste | | |
| Process Chlorine Free | | |
| Recyclable Container | | |
| Recycled Fiber Content | | |
| Certifications | | |
| Rating | | |
| Put-Up | | |
| Delivery System | | |
| Quantity/Unit | | 1 Unit(s) / Pack |
| Units/Case | | 1 Pack(s) / Case |
| Quantity/Case | | 1 Unit(s) / Case |
variants
| SKU | COLOR | DELIVERY SYSTEM | DISPENSER TYPE | FRAGRANCE | LENS COATING | MATERIAL | PACKAGING TYPE | PUT-UP | QUANTITY PER UNIT | RATING | SHEET SIZE (W X L) (IN) | SIZE | STYLE | UNITS PER CASE | VOLUME X CASE COUNT | PLY | FRAME COLOR | CASE SIZE |
| --- | --- | --- | --- | --- | --- | --- | --- | --- | --- | --- | --- | --- | --- | --- | --- | --- | --- | --- |
| 09606 | Stainless Steel | | | | | | | | 1 | | | 10.13" x 7.13" x 6.38" / 25.7cm x 18.1cm x 16.3cm | | 1 | | | | 8.625 X 11.875 X 7.625 |
| 09604 | Smoke | | | | | | | | 1 | | | 11.0" x 7.63" x 6.0" / 27.9cm x 19.4cm x 15.2cm | | 1 | | | | 9.000 X 12.125 X 6.875 |
| 09605 | White | | | | | | | | 1 | | | 11.0" x 7.63" x 6.0" / 27.9cm x 19.4cm x 15.2cm | | 1 | | | | 9.000 X 12.125 X 6.875 |
reviews
resources
resources
PRODUCT VIDEOS
MOD SRB Dispenser Mount and Load
Mounting Instructions Coreless Double Roll Tissue Dispenser
Loading Instructions Coreless Double Roll Tissue Dispenser
KLEENEX COTTONELLE Bath Tissue
find distributors
FIND DISTRIBUTOR
Spare Parts/Keys
| | NAME OF PART | ITEM # | STATUS |
| --- | --- | --- | --- |
| | Sliding Front Cover | 772617 | Active |
| | Mounting Bar, White | 772618 | Active |
| | Left Hub Arm, Gray | 772628 | Active |
| | Right Hub Arm, Gray | 772629 | Active |
| | Black plastic back plate 13" x 13" | 774125 | Active |
buy online
buying advice