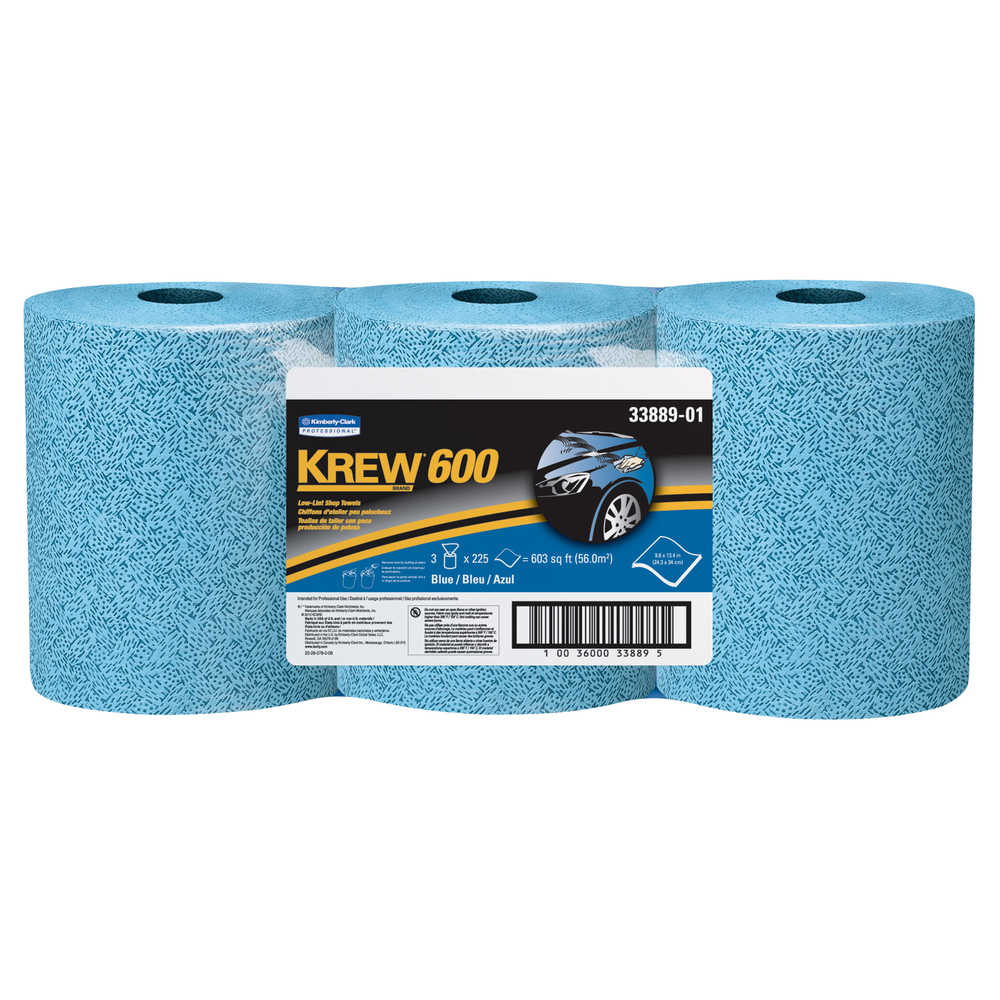 EMAIL PRODUCT
SKU
33889
FEATURES & BENEFITS
If you have a task where wiping precision and reliability are important, Krew 600 Low Lint Shop Towels are an excellent choice. They are designed for wiping tasks where low lint or the use of chemicals is required, as the polypropylene sheets are specially engineered for critical applications involving solvents, inks and paints. These absorbent sheets easily soak up solvents, lubricants, oil and grease, so they are a good choice when you're rebuilding transmissions, prepping for paint jobs and more. Whether you're responsible for cleaning by hand, automotive tasks, pre-packaging wipe-down or refinishing, these automotive wipers are essential tools of the trade. The Center Pull Roll (or "barrel roll") format works with compatible towel dispensers.
These auto wipers are low lint and made of durable, textured polypropylene
Ideal for cleaning grease and oil off of tools and surfaces; very absorbent, which makes cleaning and prepping easy
Acid-, base- and solvent-resistant, for critical tasks like engine assembly / repair, assembly and paint prep
Jumbo Roll format works with compatible Jumbo Roll Towel Dispensers; each wiper measures 9.8" x 13.4"
details
variants
reviews
resources
find distributors
buy online
buying advice
details
| | | |
| --- | --- | --- |
| Kimberly-Clark Product Code | | 33889 |
| Color | | Blue |
| Lens Coating | | |
| Frame Color | | |
| Material | | |
| Style | | |
| Fragrance | | |
| Perfume and Dye Free | | |
| Volume | | |
| Ply | | |
| Core Size | | |
| Post-Consumer Waste | | |
| Process Chlorine Free | | |
| Recyclable Container | | |
| Recycled Fiber Content | | |
| Certifications | | |
| Rating | | |
| Put-Up | | |
| Delivery System | | |
| Quantity/Unit | | 225 Sheets / Roll |
| Units/Case | | 3 Roll(s) / Case |
| Quantity/Case | | 675 Sheets / Case |
variants
| SKU | COLOR | DELIVERY SYSTEM | DISPENSER TYPE | FRAGRANCE | LENS COATING | MATERIAL | PACKAGING TYPE | PUT-UP | QUANTITY PER UNIT | RATING | SHEET SIZE (W X L) (IN) | SIZE | STYLE | UNITS PER CASE | VOLUME X CASE COUNT | PLY | FRAME COLOR | CASE SIZE |
| --- | --- | --- | --- | --- | --- | --- | --- | --- | --- | --- | --- | --- | --- | --- | --- | --- | --- | --- |
| 33889 | Blue | | | | | | | | 225 | | | 9.8 x 13.4 | | 3 | | | | 8.000 X 24.000 X 9.600 |
reviews
resources
find distributors
FIND DISTRIBUTOR
buy online
buying advice