Kleenex Professional Facial Tissue for Business (21195), Flat Tissue Boxes, 80 Junior Boxes / Case, 40 Tissues / Box
---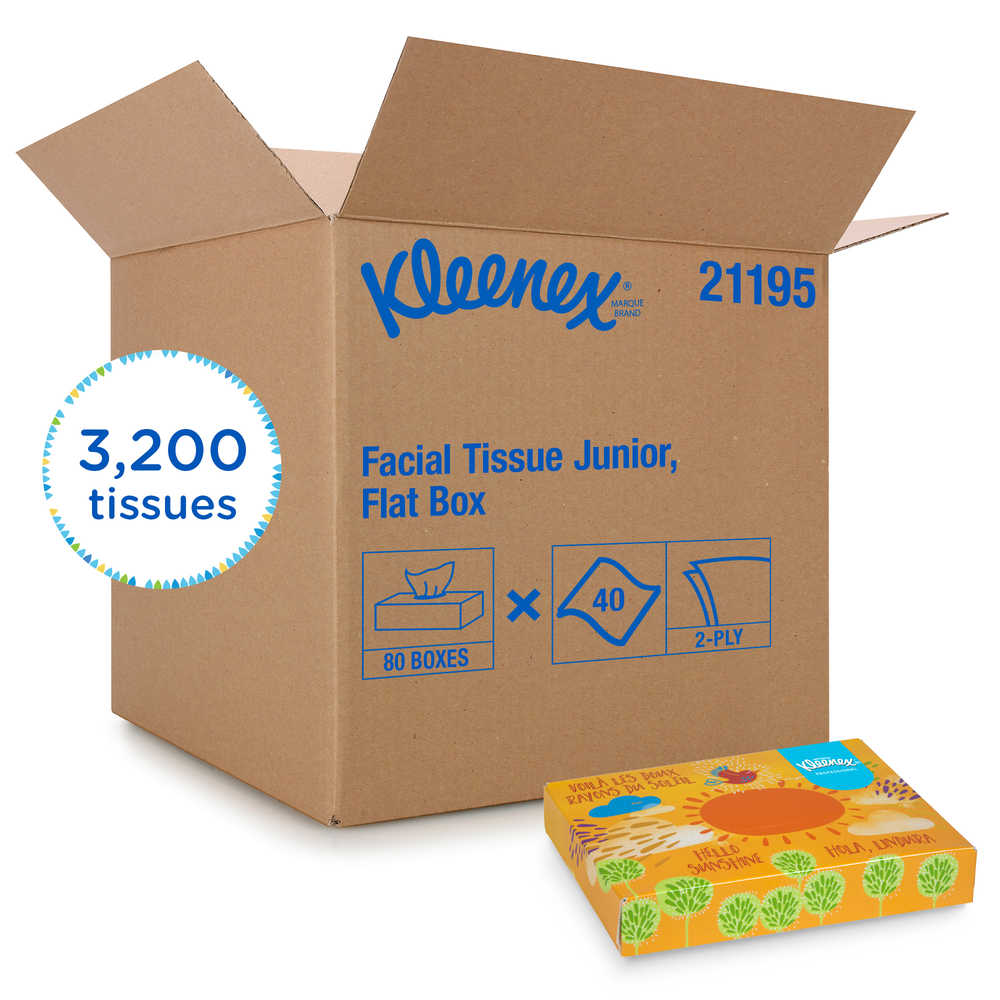 Name
Kleenex® Facial Tissue Junior
EMAIL PRODUCT
SKU
21195
FEATURES & BENEFITS
All facial tissues are not created equal. In fact, more people choose Kleenex Facial Tissue than any other brand. Kleenex tissue offers superior performance, a premium feel and essential softness. The Kleenex Facial Tissue Junior boxes are ideal for use where hygiene and convenience are important – like for classrooms and in treatment rooms. It's a popular choice in healthcare and medical offices, hotels and lodging and businesses in general. For more than 80 years, Kleenex has delivered the highest quality among facial tissues, providing consumers with their ultra-soft feel. You'll want to buy them in bulk. Choosing Kleenex lets everyone know that you care enough to provide the very best.
Each white Kleenex tissue is 8.4" x 5.5", 2-ply, absorbent, soft and strong
Kleenex is the world's number one facial tissue brand, trusted by more consumers than any other
Kleenex brand facial tissues have an 80 year history of excellence and high performance
These bulk tissues are Forest Stewardship Council (FSC) certified.
details
variants
reviews
resources
find distributors
buy online
buying advice
details
| | | |
| --- | --- | --- |
| Kimberly-Clark Product Code | | 21195 |
| Brand | | Kleenex® |
| Color | | White |
| Lens Coating | | |
| Frame Color | | |
| Material | | |
| Style | | |
| Fragrance | | Unscented |
| Perfume and Dye Free | | |
| Volume | | |
| Ply | | |
| Core Size | | |
| Post-Consumer Waste | | |
| Process Chlorine Free | | |
| Recyclable Container | | |
| Recycled Fiber Content | | |
| Certifications | | |
| Rating | | |
| Put-Up | | |
| Delivery System | | |
| Quantity/Unit | | 40 Sheets / Box |
| Units/Case | | 80 Box(s) / Case |
| Quantity/Case | | 3200 Sheets / Case |
variants
| SKU | COLOR | DELIVERY SYSTEM | DISPENSER TYPE | FRAGRANCE | LENS COATING | MATERIAL | PACKAGING TYPE | PUT-UP | QUANTITY PER UNIT | RATING | SHEET SIZE (W X L) (IN) | SIZE | STYLE | UNITS PER CASE | VOLUME X CASE COUNT | PLY | FRAME COLOR | CASE SIZE |
| --- | --- | --- | --- | --- | --- | --- | --- | --- | --- | --- | --- | --- | --- | --- | --- | --- | --- | --- |
| 21195 | White | | | Unscented | | | | | 40 | | | 8.4" x 8.0" | | 80 | | | | 12.625 X 23.375 X 8.625 |
reviews
resources
find distributors
FIND DISTRIBUTOR
Kleenex® Facial Tissue Junior
buy online
buying advice