Last Updated JULY 2023
Better Hand Drying Enhances Hygiene in Healthcare Facility
Enhancing Hygiene in the Healthcare Sector with Better Hand Drying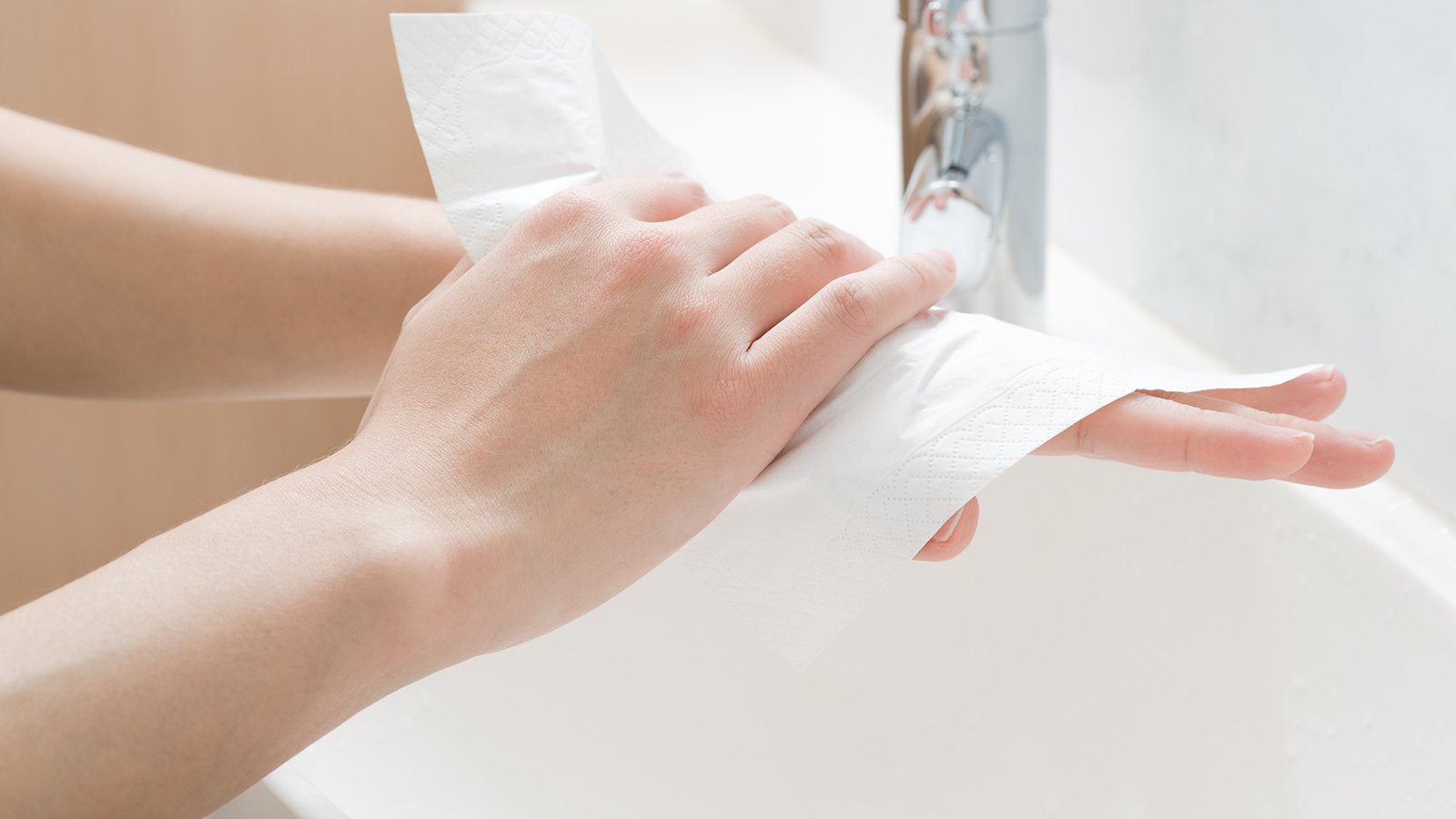 While some industries are only just beginning to give hand hygiene the spotlight it deserves, healthcare workers have long since known the importance of proper hand washing and hand sanitising techniques. Of course, how long you wash and the type of soap you use aren't the only factors that come into play when discussing good hand hygiene. The way hands are dried matters, too. Careful drying is just as important to overall hand hygiene as thorough scrubbing and rinsing. But you should be aware that not all drying methods are the same. A survey done in Europe indicated that they prefer paper towels for hand drying.1 And for those in pursuit of ex hygiene standards, the choice is clear—paper towels are a more hygienic hand drying option.
Paper Towels Reign Supreme
Single-use towels are the more effective and hygienic solution compared to jet air dryers. Studies suggest that paper towels help remove bacteria from hands. Here are the facts:
Wiping hands dry with a paper towel can help people wipe off bacteria known to linger on wet hands.2
In fact, paper towels can remove up to 77% of the bacteria that remain on hands after washing.2
Consumers tend to prefer paper towels in the washroom. One European survey found as many as 90% of people prefer paper over jet air dryers.1
For healthcare professionals, the World Health Organization (WHO) specifically recommends single-use paper towels in their hand hygiene strategy.3
The Science Behind Jet Air Dryers
Paper towels are the most effective and most hygienic hand washing solution compared to jet air dryers. We've rounded up a few statistics that reveal the dirty truth:
Jet air dryers can blow water droplets that potentially retain germs as far as 6.5 feet into the air.
These droplets (and the germs they potentially contain) can linger in the air for up to 15 minutes.
The inner surfaces of a jet air dryer can harbor 48 times more bacteria than the amount found on a toilet seat.
With all these hygiene factors at play, jet air dryers can actually increase the number of bacteria on someone's fingers during the drying process.
Opt for Paper Towels in the Healthcare Industry
We understand the need for absolute adherence to hygiene protocols in healthcare environments. Your staff and visitors need to limit their exposure to germs anywhere they can. Hand hygiene in particular plays a key role in settings far beyond the washroom – in exam rooms, patient rooms, reception areas and more. Our paper solutions can help your healthcare facility meet its latest hygiene goals from reducing germ spread to improving cleaning processes in general.
If efficiency and accessibility are what you need, our product experts can recommend solutions to meet those aims. Installing dispensers designed to require less frequent refills, for example, could benefit both the efficiency of your people and the health of your business. For settings especially susceptible to contamination like clinics and hospitals, our hygiene experts can also recommend fully enclosed, touchless systems.
Want to discuss specific hygiene standards or learn more about our offerings? Contact Kimberly-Clark ProfessionalTM for additional information about our latest solutions for medical environments.
Sources:
1. An observational study conducted in four washrooms during ISSA/Interclean Amsterdam 2016 revealed that 90% of people showed a behavioural preference for paper towels over jet air dryers in the washroom. The study, undertaken by the European Tissue Symposium (ETS), observed the behaviour of 3,879 visitors – 2,474 men and 1,405 women – when washing and drying their hands following a visit to the washroom.
2. University of Westminster, "Changes in the number of different types of bacteria on the hands before and after drying using paper towel, continuous cloth roller towel, warm air dryer and jet air dryer" (2010)
3. "WHO Guidelines on Hand Hygiene in Health Care" - https://www.who.int/gpsc/5may/tools/who_guidelines-handhygiene_summary.pdf