Last Updated FEBRUARY 2023
Future-Proofing for Health Crises: 3 Benefits of Smart Restrooms
We are now two and a half years into the global COVID-19 pandemic, and the fall flu season is coming soon. Thankfully, through the Internet of Things (IoT), we have access to smart technology that can help businesses prepare for a variety of health crises. Smart hygiene is of particular interest. This has been an emerging growth area since the onset of the pandemic, and now with a hyper-focus on the smart restroom, which can play a key role in mitigating business disruptions. This technology is designed to be intelligent, flexible, and easy to install across all types of facilities with no upfront capital investment needed. From start to finish, smart restrooms take just a few weeks to implement and have many benefits.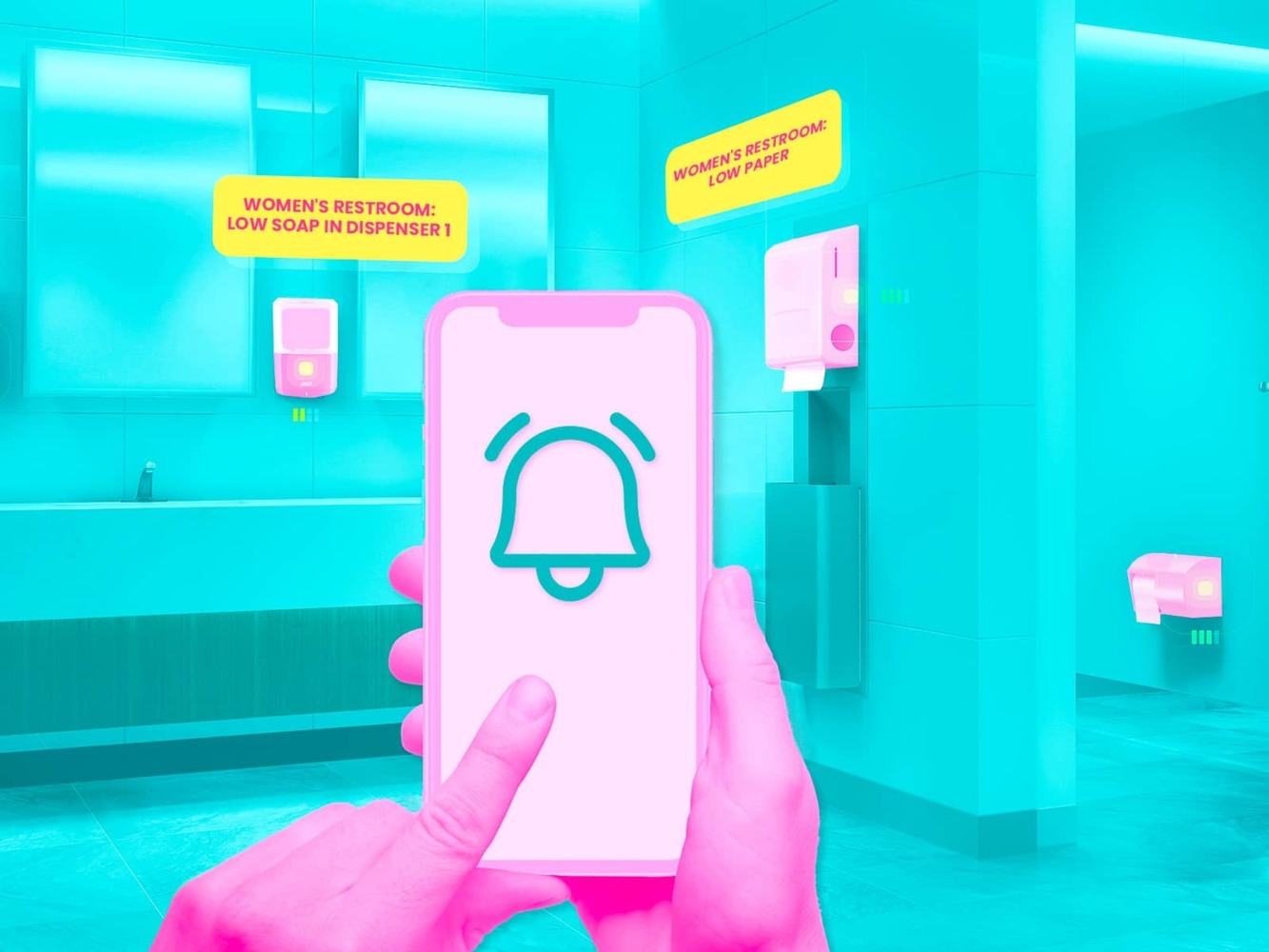 3 Benefits of Smart Restrooms
#1: Health & Safety
Restrooms consistently are one of the most highly trafficked and most complained about areas in any building. All the while, Americans are more aware than ever of health, hygiene, and restroom cleanliness. According to a Kimberly-Clark Professional survey, 75 percent of respondents said the condition of the washroom reflects hygiene standards for the rest of the establishment. The ongoing effects of the COVID-19 pandemic have transformed the way people think about restrooms. As a result, considerations of health and wellness are taking center stage in the design and operation of buildings, particularly with the Internet of Things in Buildings (BIoT). Smart restroom technology can help proactively alleviate employee hygiene concerns by enabling building owners and managers to maintain safe, healthy, and hygienic spaces.
#2: Flexibility & Adaptability
Restroom disinfection has become a top priority for businesses across the United States, yet with drastic shifts in traffic patterns, this is an ever-moving target. Businesses are constantly recalibrating to accommodate changing tenant demands, building occupancy, and labor availability. Most restroom maintenance and cleaning protocols are outdated set schedules, leading to poor visibility into utilization rates, conditions, and supply inventory. This leads to poor user experiences, heightened tenant complaints, unhygienic environments, and wasteful spending. All of these challenges can be effectively addressed with the help of smart restroom technology that monitors, analyzes, and measures information to provide real-time data on restroom conditions. This, in turn, can be used to alert maintenance staff when stock levels are low, help inform optimal cleaning schedules, and reduce complaints.
#3: Workforce Stability
The COVID-19 pandemic continues to define future workforce trends, with companies across the United States facing acute labor shortages. When it comes to talent acquisition and retention, adopting smart restroom technology offers the opportunity to improve health and safety considerations and assurance for employees. In fact, a Kimberly-Clark Professional whitepaper indicates that smart restroom solutions can lead to reduced restroom-related complaints by up to 75 percent, boosting overall tenant satisfaction and leading to a higher tenant and staff retention rates.
Preparing for the Next Health Crisis
It's not a matter of if, but when the next public health crisis hits us. Just as the Centers for Disease Control and Prevention (CDC) has created a new Center for Forecasting and Outbreak Analytics to provide an early warning system for emerging health threats, organizations that find ways to mitigate risks and future-proof themselves will be more resilient and prepared for whatever comes next. Join the growing number of facility directors and leaders who are discovering that smart restroom technology is a smart solution.
Workplace Insights blog by Juliet Hollyhurst, Onvation Operations Leader, Kimberly-Clark Professional
Editor's Note: This article was originally published by IoT For All, in September 2022