Last Updated FEBRUARY 2023
The Smart Way to Improve Restroom Efficiency & Satisfaction
Leading the way in smart sensing technology, the Onvation™ Smart Restroom Management System delivers data that helps those who manage facilities optimize restroom efficiency, reduce waste and create a more positive user experience.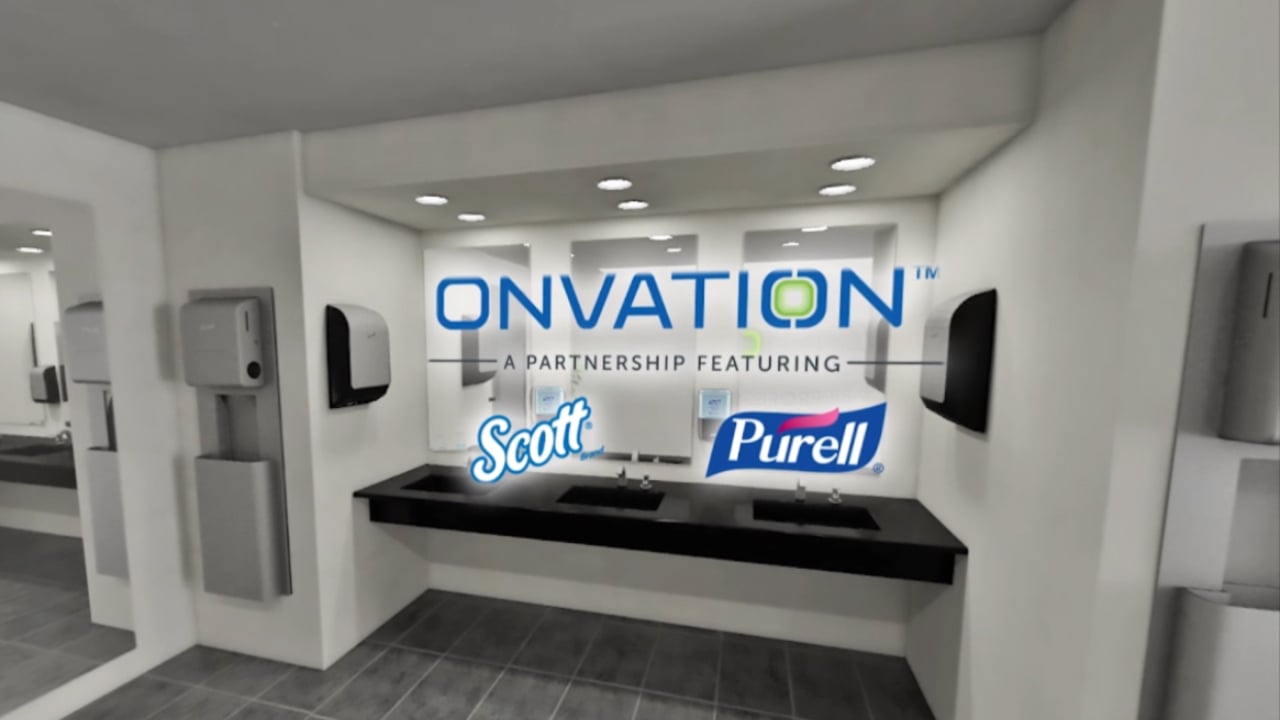 It's only 10 a.m., and you're already juggling multiple empty soap dispensers, a jammed towel dispenser in the second-floor men's restroom, and toilet paper is missing from the last stall in the lobby restroom. Again.
Welcome to a day in the life of a facilities manager, who knows firsthand how fast restroom issues—if not resolved promptly—can turn into a flood of complaints from tenants and guests.
"People don't realize that tenants equate the state of a restroom with how well – or not – a building is managed, says Shavonne Williams, Business Operations Leader from Kimberly-Clark Professional.
A research study sponsored by Kimberly-Clark Professional found that 67 percent of office building tenants say, "an unhygienic restroom lowers their overall impression of the facility."1
Are smart restrooms good for business?
Restrooms that appear to be poorly managed can put a strain on keeping the building at full occupancy, ultimately reducing its value. That's why more managers and building owners are turning to connected restroom management systems like Onvation™ to help them flag problems and other restroom issues before complaints start rolling in.
The best-selling smart restroom system in the U.S.2, the Onvation™ Smart Restroom Management System is an Internet of Things (IoT) platform that allows you and your cleaning team to monitor the condition of every restroom in your building in real-time.
Sensors connected to Kimberly-Clark Professional™ Scott® and GOJO PURELL® dispensers send real-time alerts that ensure users experience restrooms that are clean and fully stocked with toilet paper, paper towels, soap, and hand sanitizer. The Onvation™ Dashboard provides managers and supervisors with data and other reports that help them address waste, labor efficiencies, and tenant satisfaction. Through the Onvation™ Compass App, issues are color-coded, so cleaners can quickly identify urgent issues such as product outages and jams.
"This type of smart restroom solution – the integration of two trusted best-in-class brands in paper and hand hygiene – is what our customers are requesting," said Steve Schultz, former President and COO, GOJO North American and International. "GOJO is always looking ahead and asking ourselves 'how might we,' and we are pleased to partner with Kimberly-Clark to bring our customers the technology and innovation they need to make their jobs easier."
"The efficiencies we've gained have gone far beyond what we ever imagined."
– Orlando Ackerson, Resident Regional Director, Xanitos Environmental Services
Goodbye, restroom woes. Hello, operational efficiency.
With Onvation™, staff efficiency skyrockets, and restrooms wind up being cleaner when time can be spent mopping, sweeping, and scrubbing rather than physically checking product levels and—possibly—refilling too soon.
"Instead of staff spending time policing the restrooms, our housekeeping staff can focus on other things," notes Orlando Ackerson, resident regional director of Xanitos Environmental Services, which manages a 750,000-square-foot medical center in southern California. Since installing the Onvation™ system in 2018, Ackerson said staff has been redeployed to other tasks, like cleaning patient rooms. A 20 percent decrease in discharge time resulted, improving the medical center's HCAHPS * score, a patient satisfaction metric used to measure patients' perception of their hospital experience.
"Bottom line, the housekeeping staff is more efficient because they know where to be and when," Ackerson said. "The efficiencies we've gained have gone far beyond what we ever imagined."
Now in its fourth year, Onvation™ leads the field in smart restroom solutions. While similar systems are still in the dabbling and development stage, Onvation is launching a 2.0 version of its Dashboard and Compass App with enhanced features for both facility managers and cleaners.
What are the key benefits of Onvation™ smart technology to your facility:
Reduce restroom-related complaints and work orders by up to 75 percent3
Reduce product waste due to premature refills by up to 80 percent3
View real-time behavior data, including restroom traffic patterns and peak hours
Compare monthly and year-to-date product consumption, enabling precise inventory planning
Instant restroom upgrade with the addition of sleek Scott® and PURELL® dispensers installed at no cost to you
"Restrooms are consistently one of the top three areas of tenant complaints for facility managers, and they need real-time data and alerts to help them efficiently and effectively manage the restrooms for their customers," states Matthew Trute, Associate Director of Dispensers and Onvation™ at Kimberly-Clark Professional.
Any facility manager will tell you that efficient restrooms mean more time to tackle other building tasks. They can also amount to higher tenant satisfaction and better leasing rates. Onvation™ helps you provide a better restroom experience seamlessly.
Ready to see how Onvation™ can help you maximize your restroom efficiency? Schedule a consultation
* *(HCAHPS refers to the Hospital Consumer Assessment of Healthcare Providers and Systems, a leading patient satisfaction survey required by the Centers for Medicare and Medicaid Services for all hospitals in the United States.)
1KCP-Sponsored Study – Elevated Washroom Chooser – User Research, 2015
2"#1 Selling Smart Restroom System in the US" – Based on 2017 KCP Sales Data
3 Based on KCP 2017 Case Study
Purell is a registered trademark of GOJO industries, Inc. and used under license.