Last Updated JULY 2023
ONVATION: Adding Intelligence to Cleaning Improves Decision Confidence
One of the first products to achieve the GBAC STAR™ Registered Seal was The Onvation Smart Restroom Solution, manufactured by Kimberly Clark. Onvation checked all the boxes for registration as it was assessed by the GBAC Advisory Council Scientific Board for its scientific validity, usability, practicality, safety and effectiveness related to claimed uses. This registration assures customers and manufacturers/companies that the program or technology has been graded against a rigorous process to be awarded the GBAC STAR™ Registered Seal.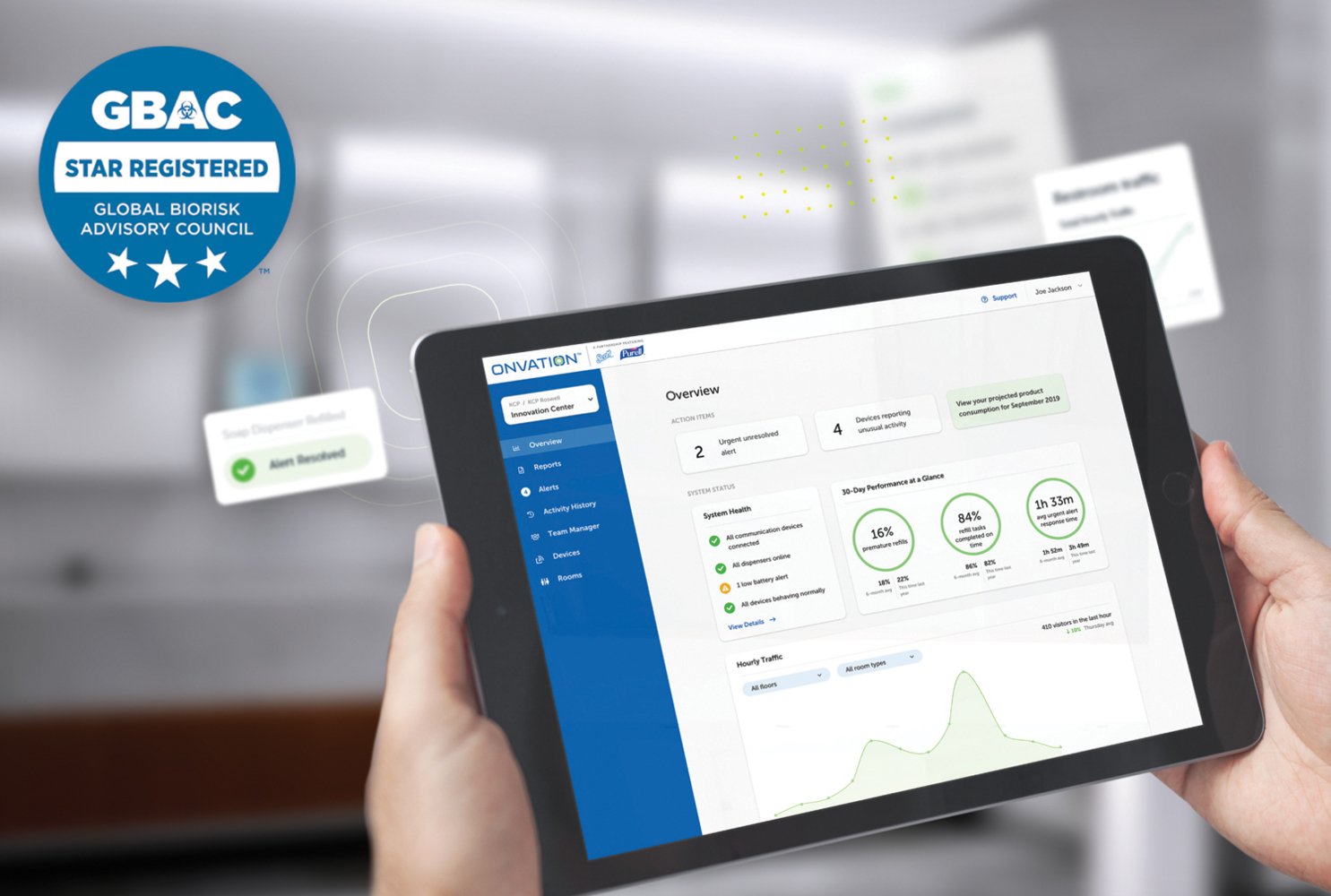 Andy Clement, Chief Customer Officer at Kimberly-Clark Professional, commented "We're excited that GBAC recognizes Onvation's credentials in helping facility leaders solve age-old problems with IoT technology"
Connected Software Solution for Smart Restroom Servicing
The Onvation Smart Restroom Solution provides real-time notifications for restroom conditions. It alerts cleaning teams to everything from product run-outs to dispenser jams to restroom footfall indicators. The system also provides digital management tools and analytics that help eliminate inefficiencies by highlighting the time remaining until the dispenser runs empty, traffic patterns and product usage trends.
The primary benefits of the Onvation Smart Restroom Solution include:
Improved janitorial labor productivity - Instead of treating all restrooms equally, Onvation enables properties to assign staff to areas according to need. This frees up time to focus on other tasks. In fact, Onvation saves cleaners more than 90% of the time spent checking dispensers*.
Sustainability– When dispensers are refilled on a fixed schedule, rather than by need, a lot of product is wasted due to premature refilling of dispensers. Onvation delivers up to 80% waste reduction**
Cost reductions–The system delivers measurable results, saving money as well as time.
Tenant satisfaction–With this product customers achieve up to 75% fewer complaints, and demonstrates the property's commitment to new and innovative technologies.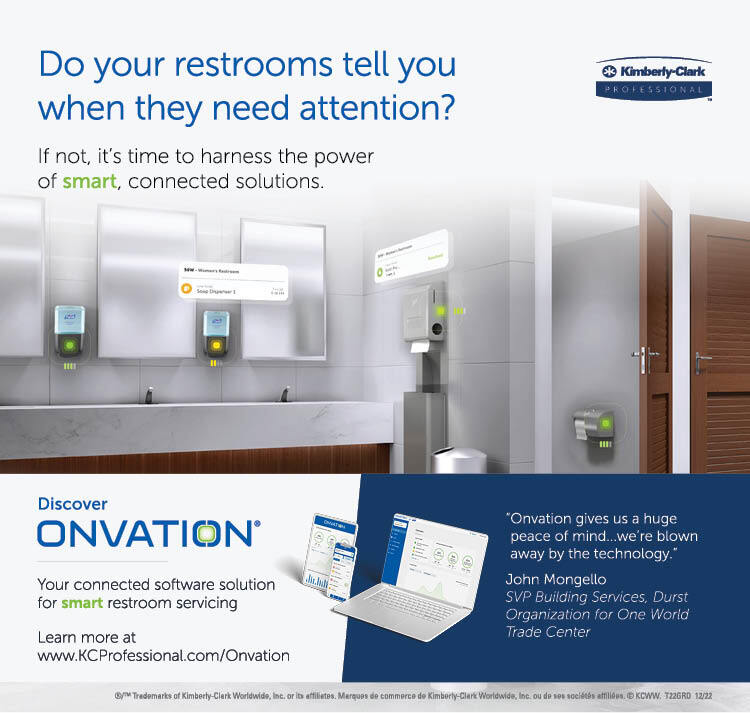 ELIGIBILITY FOR GBAC STAR REGISTERED SEAL
To be eligible as a GBAC STAR Registered Program, the program should be able to provide relevance to how the program/programs align with the GBAC STAR Facility Accreditation program, describing which of the 20 elements will help or support an organization with its GBAC STAR accreditation.
To be eligible as a GBAC STAR Registered Technology, an application must include a list of claims and problem statements the offering is addressing, evidence that the offering will make an effective contribution in support of a hygienic indoor environment and demonstrate an advantage over existing offerings in terms of the program's or technology's claimed effectiveness, significant cost savings that may result from its use, and the health and safety of the person using the program or technology in the field.
Program or technology performs as claimed
Program will contribute to a high-performance cleaning regimen that maintains a hygienic indoor environment
Program or technology has advantages over existing offerings in terms of the program's or technology's claimed effectiveness or significant cost savings that may result from its use.
Companies that have achieved GBAC STAR Registration for their technology or program will be able to use the GBAC STAR Registered Seal on their product or program documentation. To learn more about this program, visit https://gbac.issa.com/gbac-star-registered-programs.
This article was first published in the GBAC Star Report March 2023 edition: https://bit.ly/3GgRSpJ
---------------------------------------------------------------------
*based on analysis of current Onvation customers
**as demonstrated in alpha and beta testing