Last Updated JANUARY 2023
Smart, Clean Restrooms Can Help Reduce Germ Transmission in Healthcare Facilities
Even before the pandemic, unsanitary restroom conditions were bothersome and often included smelly odors, splattered surfaces, and no toilet paper or soap. The goal is often to get in and get out as quickly and with as little contact as possible. As visitation restrictions loosen and foot traffic increases in hospitals and healthcare facilities, the odds are stacking up for increased healthcare-acquired infections (HAIs). In fact, according to the National Library of Medicine, multiple research studies have found that poor cleaning of surfaces within health care facilities is a major source of HAIs because of the transmission of microorganisms, like MRSA[1]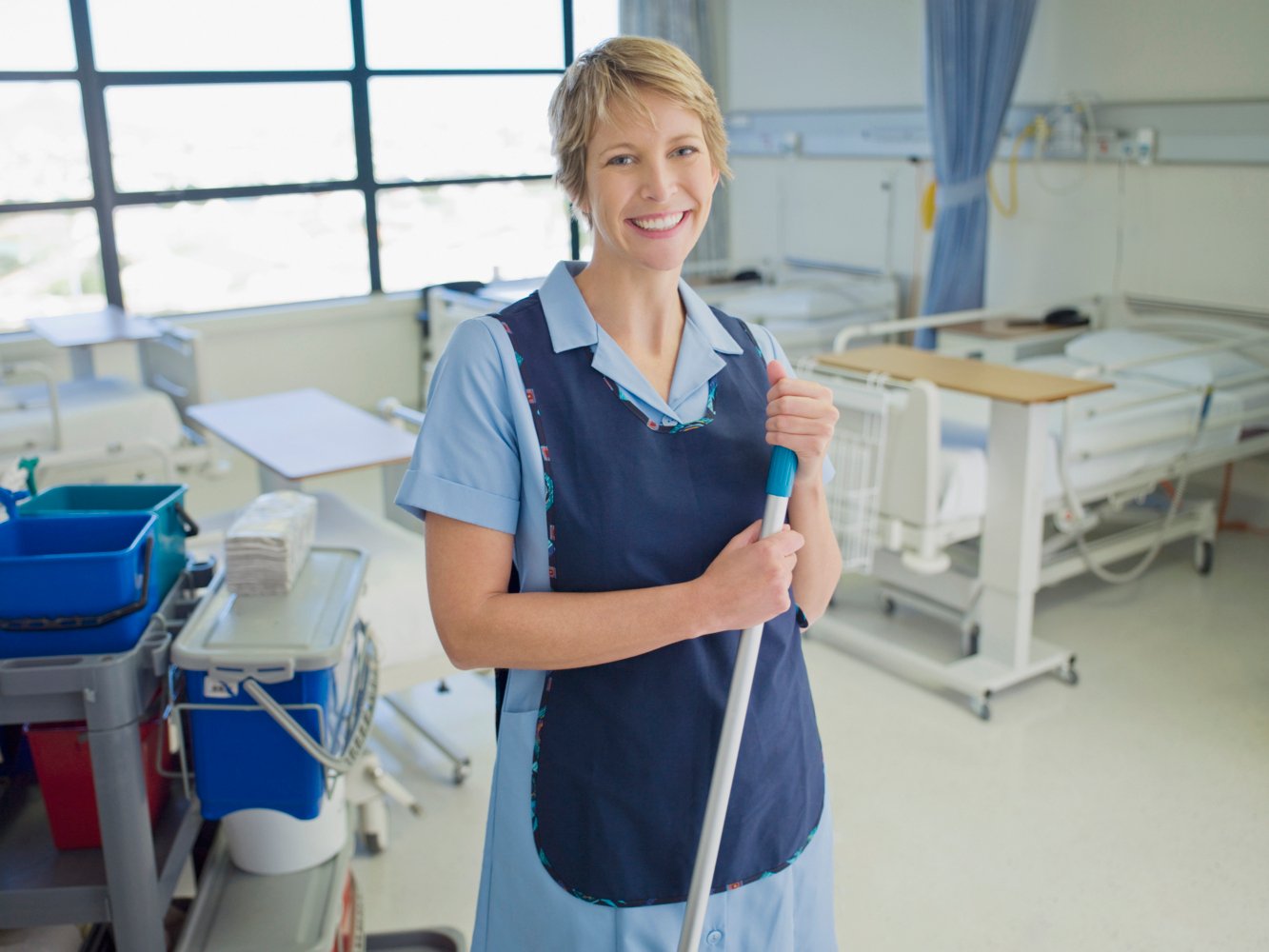 According to the U.S. Centers for Disease Control and Prevention (CDC), roughly one in every 25 patients in U.S. hospitals acquires a HAI while receiving care in a healthcare facility[2]. This equates to 722,000 HAIs each year, with approximately 75,000 patients dying from those infections[3]. In addition to the preventable loss of life, HAIs cost U.S. hospitals more than $20 billion annually[4].
A growing body of research shows that illness-causing germs commonly found in public restrooms can easily be transmitted between individuals through contact with contaminated surfaces, such as door handles, stalls, faucets, toilets, dispensers and floors[5]. Because the potential for germ transmission from surfaces is high, keeping patient rooms clean should be one of the top priorities for every hospital and healthcare facility, enabling a focus on infection prevention and control.
However, because of the volume of traffic, public restrooms take up much of the janitorial team's time, which can result in a compromise – either reduced time cleaning patient rooms or less hygienic public restrooms. In addition, without access to data and analytics, most restroom servicing decisions are based on assumptions and historical schedules rather than facts, which can result in wasteful spending.
Healthcare facilities can now benefit from smart technology to help them more efficiently manage public restrooms so they can focus on keeping patient rooms clean.
The Internet of Things (IoT) isn't new to the healthcare industry. Today's most common uses include insulin delivery, activity trackers during cancer treatment, ingestible sensors, depression-fighting apps and coagulin testing. In fact, experts predict that the IoT can reduce costs from clinical and operational efficiencies by 25%, or $100 billion each year[6].
Public restrooms, however, are frequently a forgotten space. By leveraging the IoT, smart restrooms can provide a range of touchless and data-driven solutions that improve overall hygiene, staff productivity and operational efficiencies. For example, the lowering cost of simple IoT sensors makes digital monitoring and replenishment of soap, towel and toilet paper a feasible and valuable proposition.
Non-intrusive sensors can count restroom footfall, help optimize cleaning schedules and drive on-demand cleaning to ensure hygiene levels are maintained while maximizing the efficiency of scarce janitorial labor. Smart restroom solutions enable facilities to project a caring and progressive image of the establishment that caters to both patients and visitors, while helping to lower the risk of spreading illness-causing germs.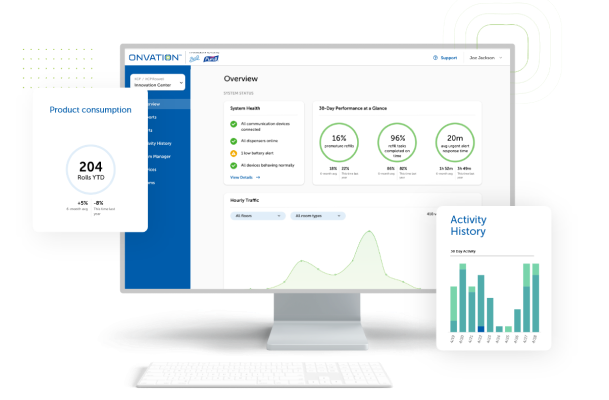 The COVID-19 pandemic drastically increased the need for accessible and accurate utilization data. With insight to daily traffic patterns, environmental service (EVS) directors using smart connected solutions could find it easier to optimize cleaning schedules despite inconsistent and unpredictable human behaviors. In the third year of the pandemic, people are more aware of germ transmission, hygiene and sanitation, and cleaning for the health and safety of employees, patients and visitors has risen to the top of EVS directors' priority lists.
In May 2020, Kimberly-Clark Professional conducted a survey of respondents working in a variety of away-from-home environments, including healthcare offices, acute healthcare facilities, and senior care facilities, among others. This study revealed that 62% of people believe that seeing cleaning in action is important, yet almost one third of a cleaner's shift can be spent unnecessarily checking product levels in restroom dispensers[7], which could divert janitorial staff away from jobs supporting patient care. In today's challenging labor market, it's important to use innovative technology solutions to help reach and maintain the high bar EVS directors set for their teams.
How can resource-strained healthcare EVS staff keep up?
All of these challenges can be effectively addressed with the help of smart restroom technology that monitors, analyzes and feeds information to the EVS team. This can help improve hygiene levels and service rotations. Predicting issues before they occur—alleviating stress—is a solutions-orientated approach that EVS directors are craving.
For example, Onvation® —the No. 1 ranked smart restroom solution[8]—provides real-time data and alerts, which can be used to notify maintenance staff when stock levels are low as well as help to inform optimal cleaning schedules. This smart technology enables EVS teams to predict problems before they arise and provides data and insights into traffic and trends.
Access to this information empowers leadership to better allocate resources, optimize consumables supply and make faster decisions. Smart restroom technology adds intelligence to restroom cleaning operations and can help EVS teams achieve up to 75% fewer complaints and contribute to hospital sustainability goals with up to 80% waste reduction[9]. It also reduces the time spent checking dispensers by more than 90% per year[10].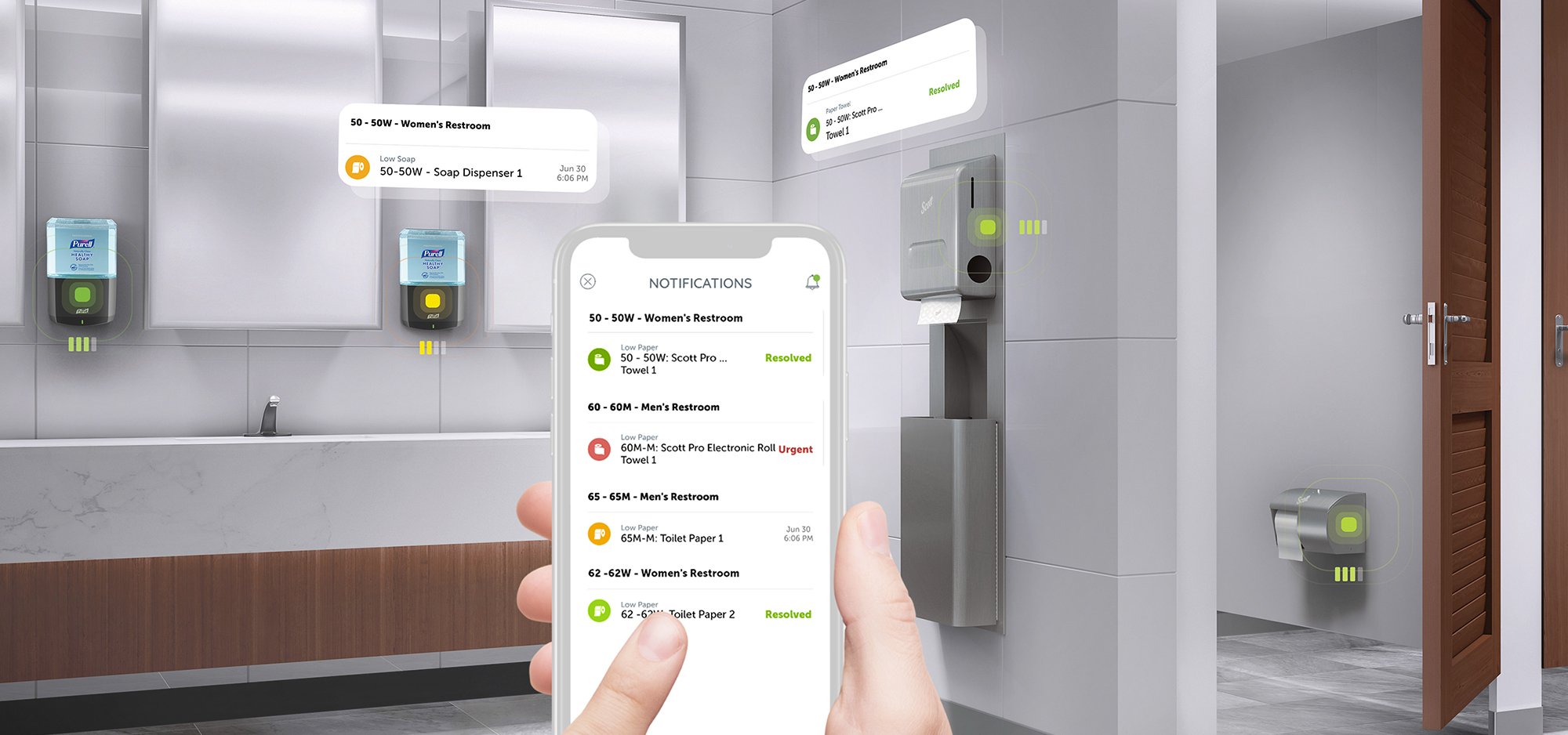 Compounding the inconsistent and unpredictable daily traffic patterns in healthcare facilities influenced by the pandemic, EVS teams must also account for the increasing use of restroom hygiene products, such as liquid soap, paper towels and toilet paper. Data provided by facilities using smart restroom technology solutions for smart restroom servicing show sharp increases in hand soap and hand towel use during the 2021 pandemic period.
Interestingly, clean environments are shown to positively influence personal hygiene behaviors, such as handwashing, which is the most effective tool in preventing the spread of health care-associated infections[11].
There's no doubt today's heighten awareness on a need for greater hygiene in public spaces in healthcare facilities is critical to helping slow the spread of germs and ease the minds of patients and healthcare workers alike. Smart technology can help organizations raise the level of cleanliness in restrooms and enabled by data visualization and technology have the added benefits of enabling cleaners to focus on patient rooms to drive higher satisfaction among visitors.
How smart are your cleaning systems?
###
Workplace Insights blog by Juliet Hollyhurst, Onvation Operations Leader, Kimberly-Clark Professional
Editor's Note: This article was originally published by Facility & Cleaning Maintenance, in August 2022 smart-washrooms-can-help-reduce-germ-transmission-in-healthcare-facilities/
[1] https://www.ncbi.nlm.nih.gov/pmc/articles/PMC6245375/

[2] https://www.cdc.gov/winnablebattles/report/HAIs.html

[3] https://epi.dph.ncdhhs.gov/cd/diseases/hai.html

[4] https://www.cdc.gov/hai/pdfs/hai/scott_costpaper.pdf

[5] Transmission of COVID-19 and other infectious diseases in public washrooms: A systematic review

[6] The Internet of Things - 20 Stats and Facts from Frontier Communications

[7] based on Onvation® data in an average size facility

[8] based on Kimberly-Clark Professional U.S. customer survey, August 2021

[9] As demonstrated in alpha and beta testing

[10] based on analysis of current Onvation® customers

[11] https://www.hopkinsmedicine.org/patient_safety/infection_prevention/hand_hygiene.html#:~:text=Hand%20hygiene%20is%20the%20number,germs%20and%20to%20prevent%20infections