Last Updated MAY 2022
Proper Cleanroom Gowning Can Minimize Contamination Risk
Keeping the operator's dirt and germs out of the sterile cleanroom environment is the main objective of the sterile cleanroom suit. It's critical for cleanroom operators to select cleanroom suits that provide the highest levels of inherent sterility that can be maintained during the gowning process.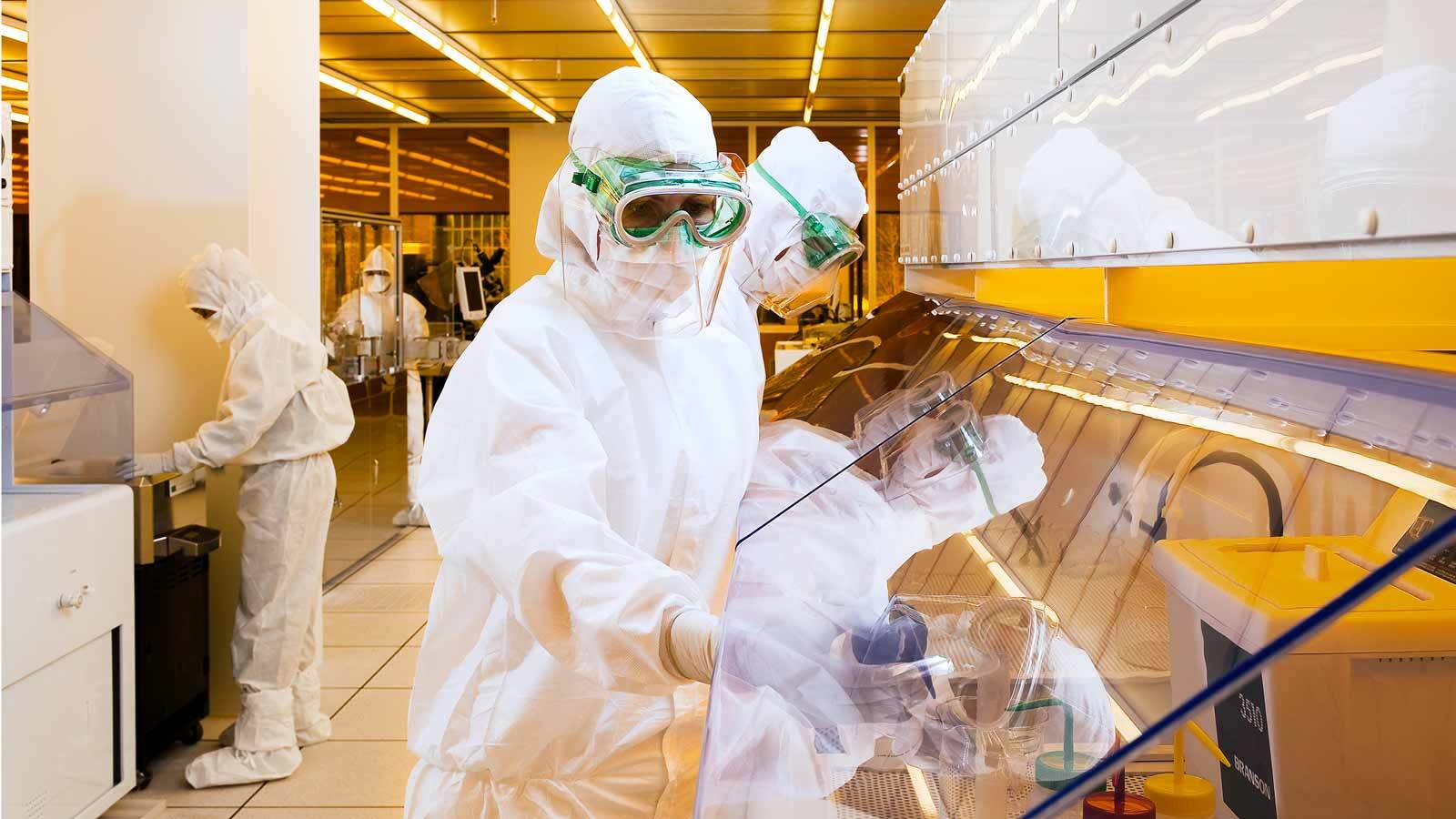 Kimberly-Clark Professional™ spent the better part of two years interviewing cleanroom operators, visiting them in their workplaces and evaluating the features and functions of traditional sterile cleanroom gowns to identify areas in which there was potential room for improvement.
Key findings of that research:
The sterile cleanroom gowning process takes between 5 and 10 minutes for the vast majority of cleanroom operators. Almost one-third of cleanroom operators indicate that cleanroom coveralls are the most difficult part of the six-step gowning process, and that donning coveralls takes an average of 30 percent of the entire gowning process time. Cleanroom operators are disposing of an average of 10 percent of their sterile cleanroom garments every week due to exterior contamination during the gowning process.
Most new cleanroom operators need 30 hours of initial training on cGMP donning procedures before they are allowed in the cleanroom itself, and an average of 6 hours of ongoing training each week.
More than 50 percent of cleanroom operators reported garments ripping out or billowing due to poor fit.
One-third of cleanroom operators report being unsure of their garment's sterility due to the appearance of its packaging.
Approximately 87 percent of cleanroom operators would consider switching to a new garment if it was more comfortable and offered less risk of contamination.
Scientific research in the workplace has revealed that a moderate variation in body temperature can greatly reduce concentration and increase risk-inducing behavior. Workers unable to maintain a thermo-neutral zone, or comfort zone, have a higher tendency to become injured and need time off from work, thus reducing productivity.
"In the pharmaceutical industry, the investments needed to bring a product to market are staggering. The steep price of product rejects and recalls makes it crucial to ensure strict cleanroom cleanliness and sterility."
Inside R&D: Designing a New Gowning Approach
A multi-functional product development team at Kimberly-Clark Professional set out to design a new approach to sterile gowning that would eliminate the problems identified during the company's research. The resulting Clean-Don Technology provides the following features:
A patent-pending snap technology that features built-in snaps which gather up legs and arms to lower the risk of the garment touching the floor, then automatically release as the garment is put on.
An innovative inside-out fold pattern that presents the inside of the garment as the package is opened, reducing the risk of touching and contaminating the outside of the apparel.
A highly visible blue line along the inside of the garment that signals the proper place to grasp while gowning, helping workers avoid touching the exterior of the garment. Thumb loops that help keep the garment from riding up the arm and help to maintain the glove/garment interface.
A unique process to package the new garments for sterility assurance. The technology uses a vacuum seal process to allow the breathable SMS fabric to be sterilized with Gamma irradiation.
A roomy design that is less likely to rip out than ANSI minimums since it provides 12 percent more chest room and six percent longer body length.
An SMS (Spun bondMeltblownSpunbond) material that provides a cloth-like feel and is 25 times more breathable than TYVEK.
Validation & Training: Inculcating the New Approach
One of the necessary steps when validating a new sterile cleanroom gown is to carefully review the garment's certification. Be sure to ask the garment supplier for the following:
Certificates of Conformance – these verify that a specific product lot conforms to all specifications before the lot is released. Physical characteristics should be tested in accordance with relevant ASTM standards. Particles should be tested in accordance with relevant IEST standards.
Certificates of Irradiation – document the minimum and maximum dosage of irradiation that a product received. Look for sterilization validation documentation that confirms that the doses have been verified, the loading patterns were enough, and that the process is audited on a regular basis.
Most pharmaceutical companies will conduct a new garment validation process for three to nine months, during which time the new garments would be worn in a controlled area, though not necessarily in the actual cleanroom in which the garment is designed to be worn. In many pharmaceutical companies, a new sterile gown also will need to undergo testing on three lots before validating and approving it. In some cases, a change to the standards of practice for that environment will also be required.
Conclusion
Validating a new sterile cleanroom garment is not a task to be undertaken lightly. However, when a new approach to sterile gowning can help improve the gowning process, reduce opportunities for operator error, and minimize the risk of contamination, it provides a strong incentive for pharmaceutical companies to consider switching.