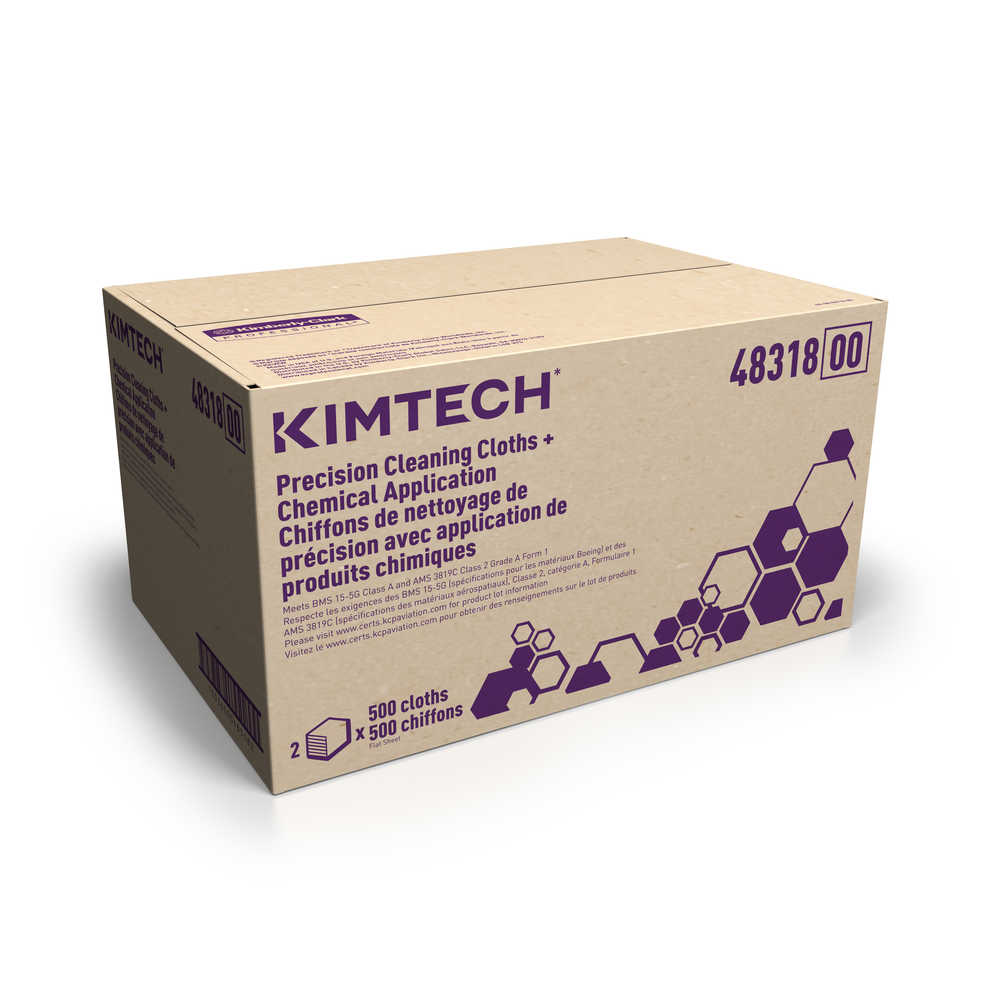 EMAIL PRODUCT
SKU
48318
Size
9" x 12" 12" x 12.5"
FEATURES & BENEFITS
The Kimtech™ Precision Cleaning Cloth +Chemical Application is a patented spunlace cloth that can solve multiple pain points in composite and metal manufacturing related to surface prep, process contamination, and costly chemical use. It is ideal for critical tasks, like mold cleaning for composites, paint surface prep, or cleaning adhesives, where solvent or chemical application on a surface must be done right the first time every time.

Reduce rework and cost while achieving superior results:

A soft cloth that is virtually lint free – even on abrasive surfaces

Generates up to 15x less lint than other virtually lint free cloths on the market today.

Delivers up to 97% of the chemical/solvent it absorbed back onto the surface.

Meets AMS and BMS standards for extractables and lint.
details
variants
reviews
resources
buying advice
buy online
find distributors
details
| | | |
| --- | --- | --- |
| Kimberly-Clark Product Code | | 48318 |
| Brand | | Kimtech* |
| Color | | White |
| Lens Coating | | |
| Frame Color | | |
| Material | | Spunlace |
| Style | | Flat |
| Fragrance | | |
| Perfume and Dye Free | | |
| Volume | | |
| Ply | | |
| Core Size | | |
| Post-Consumer Waste | | |
| Process Chlorine Free | | |
| Recyclable Container | | |
| Recycled Fiber Content | | |
| Certifications | | |
| Rating | | |
| Put-Up | | |
| Delivery System | | |
| Quantity/Unit | | 500 Sheets / Pack |
| Units/Case | | 2 Pack(s) / Case |
| Quantity/Case | | 1000 Sheets / Case |
variants
| SKU | COLOR | DELIVERY SYSTEM | DISPENSER TYPE | FRAGRANCE | LENS COATING | MATERIAL | PACKAGING TYPE | PUT-UP | QUANTITY PER UNIT | RATING | SHEET SIZE (W X L) (IN) | SIZE | STYLE | UNITS PER CASE | VOLUME X CASE COUNT | PLY | FRAME COLOR | CASE SIZE |
| --- | --- | --- | --- | --- | --- | --- | --- | --- | --- | --- | --- | --- | --- | --- | --- | --- | --- | --- |
| 48318 | White | | | | | Spunlace | | | 500 | | | 9" x 12" | | 2 | | | | 13.125 X 19.375 X 10.875 |
| 48635 | White | | | | | Spunlace | | | 76 | | | 12" x 12.5" | | 12 | | | | 12.187 X 19.687 X 12.250 |
reviews
resources
buying advice
buy online
find distributors
FIND DISTRIBUTOR