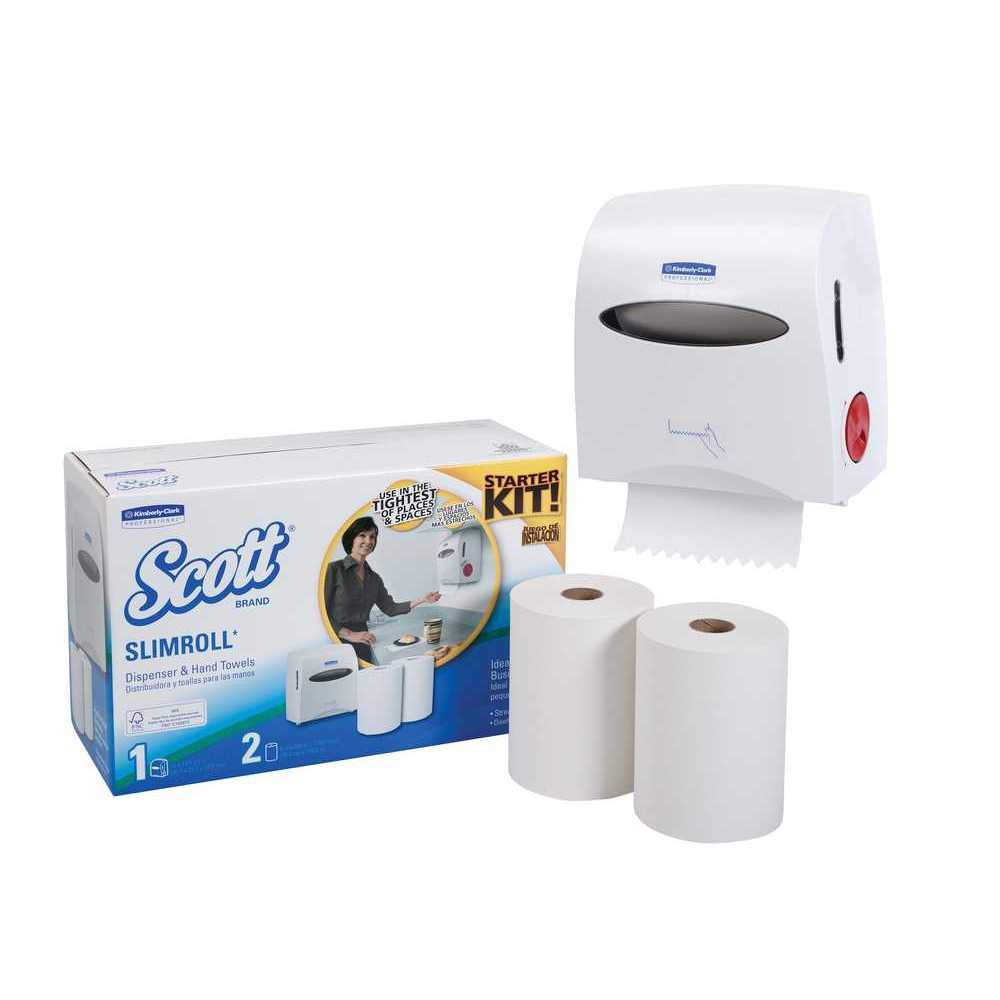 EMAIL PRODUCT
SKU
31701
Size
20.75" x 8.50" x 13.13"
FEATURES & BENEFITS
The Scott® Slimroll* Towel System is a true breakthrough in touchless hard roll technology, proving that good things do come in small, high performance packages! It lets you use a roll towel dispenser in places you didn't think it was possible. Like right next to the sink. Or at a nurses' station where you've never been able to fit a roll towel dispenser before.

Compact dispenser is perfect size for the break room or small restrooms
High capacity in a compact roll for less maintenance time, run-outs and complaints
Hygienic dispensing—only touch the towel you use
Scott® Slimroll* Towels are so absorbent, you'll use less and waste less
Close-to-sink placement helps eliminate slip and fall risks caused by dripping hands
Reliable dispenser is ADA compliant and easy to install and load
Towels meet EPA standards; FSC® and EcoLogo® certified
Contains dispenser item# 10442 and refill item# 12388

Product being discontinued - replacement is refill codes.
details
variants
reviews
resources
buying advice
buy online
find distributors
details
| | | |
| --- | --- | --- |
| Kimberly-Clark Product Code | | 31701 |
| Brand | | Scott® |
| Color | | White |
| Lens Coating | | |
| Frame Color | | |
| Material | | |
| Style | | |
| Fragrance | | |
| Perfume and Dye Free | | |
| Volume | | |
| Ply | | |
| Core Size | | |
| Post-Consumer Waste | | |
| Process Chlorine Free | | |
| Recyclable Container | | |
| Recycled Fiber Content | | |
| Certifications | | |
| Rating | | |
| Put-Up | | |
| Delivery System | | |
| Quantity/Unit | | 580 Feet / Roll |
| Units/Case | | 2 Roll(s) / Case |
| Quantity/Case | | 1160 Feet / Case |
variants
| SKU | COLOR | DELIVERY SYSTEM | DISPENSER TYPE | FRAGRANCE | LENS COATING | MATERIAL | PACKAGING TYPE | PUT-UP | QUANTITY PER UNIT | RATING | SHEET SIZE (W X L) (IN) | SIZE | STYLE | UNITS PER CASE | VOLUME X CASE COUNT | PLY | FRAME COLOR | CASE SIZE |
| --- | --- | --- | --- | --- | --- | --- | --- | --- | --- | --- | --- | --- | --- | --- | --- | --- | --- | --- |
| 31701 | White | | | | | | | | 580 | | | 20.75" x 8.50" x 13.13" | | 2 | | | | 13.125 X 20.750 X 8.500 |
reviews
resources
resources
PRODUCT VIDEOS
Loading the Scott® Mod* Slimroll Towel Dispenser System
Loading the Scott Essential Towel Dipenser System
Mounting the Scott® Mod* Slimroll Towel Dispenser System
Mounting Scott Essential Towel Dispenser System
Retro-fitting the Roll Holder Arms for the Scott® Mod* Slimroll Towel Dispenser System
Mounting Instructions for Coreless JRT Twin
Mounting instructions for the SANITOUCH Manual Touchless Roll Towel Dispenser
Loading Instructions for SANITOUCH Manual Touchless Roll Towel Dispenser stub roll
buying advice
buy online
find distributors
FIND DISTRIBUTOR